Veggie Noodles with Cream Sauce
June 14, 2017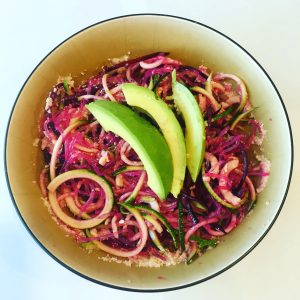 Veggie Noodles with Cream Sauce
Veggie noodles are a great alternative to regular pasta, not only are they just as satisfying, but they give you TONS of extra nutrition. Not to mention they are gluten-free, and gluten is the #1 cause of leaky gut!
You can spiralize any veggies, but this is one of our favorites blends.
Ingredients:
– 2-3 zucchinis
– 1 cucumber
– 3 beets (the greens from your beets are great to thinly slice for salads, or to juice/add to smoothies)
– 1 bag kelp noodles, optional (soak before serving)
Directions:
Spiralize veggies, and mix together. A great tip for food prepping is to keep all these spiralized veggies in your fridge to use throughout the week!
Ways to eat:
– You can warm the spiralized veggies and kelp noodles in hot water just like regular noodles, they will cook in just a few minutes to soften the texture. If you are warming do not add the cucumber. For sauce you can use our Creamy Garlic Herb Sauce or Nicole's Cheese Sauce
– Veggie noodles are also delicious served cold and the creamy sauces are as well! This is perfect if you need an on-the-go meal.