Stuffed Peppers with Pesto Rice
Stuffed Peppers w/ Pesto Rice
Hi all! I hope everyone is staying safe and healthy! Check out this healthy and hearty Stuffed Peppers recipe.
Ingredients:
1 cup Trader Joes Wild Rice (or any rice)
2 cups of water (for rice)
3 cloves garlic (chopped)
1 package Cremini Mushrooms (Chopped)
Splash of Veggie broth (to cook your veggies in)
Vegan Kale Cashew Basil Pesto (From Trader Joes)
Pre-packaged Slaw
2 Bell peppers (whatever color you want 🙂 today, we used red and orange)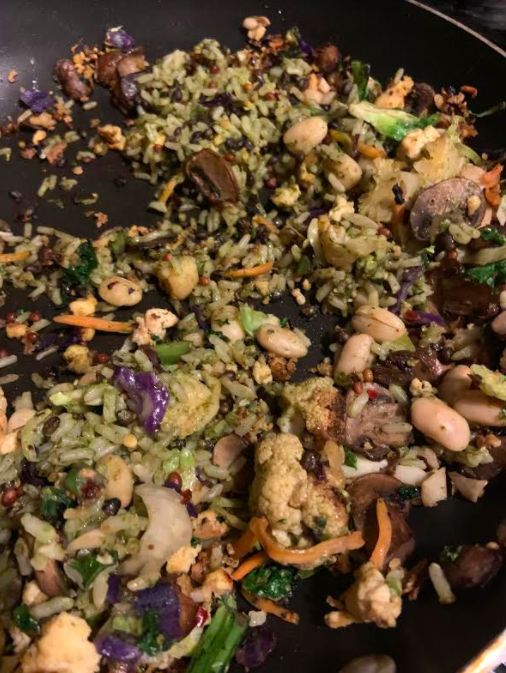 Start by preheating your oven to 425 degrees.
Cook the wild rice by bringing 2 cups of water and 1 cup of rice to a boil. Once it's boiling, reduce to a simmer and cook for about 15 minutes or until the water has all been absorbed. While the rice is cooking you can start cooking your mushrooms and other "pepper stuffing".
Add cut up mushrooms and 3 cloves of garlic to a separate pan. This will be sauteing for roughly 12 minutes.
In (another) separate pan (while the mushrooms are cooking) add the pre-packed slaw and start sautéing for about 6 minutes. We are looking really to just warm this up for a few minutes!
Once the mushrooms are done, combine the slaw with the mushrooms.
Nicole added to the mushrooms some tofu scramble (w/ nutritional yeast, red pepper flakes), cannellini beans, and cauliflower because it was all leftover in her fridge! These are all optional! Feel free to get creative- add anything you have left in your fridge. Continue cooking for 3-5 minutes.
Add the Vegan Kale Cashew Basil Pesto to the rice once the rice is done cooking.
Start stuffing your peppers- Cut the tops off and rinse the seeds out. Fill up a pepper with 1/2 rice, and 1/2 mushroom blend.
Bake in the oven for roughly 15-20 minutes and it's ready to be served!