May 18, 2017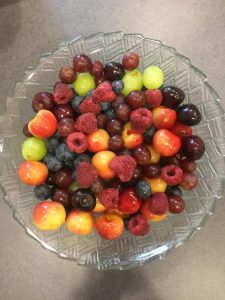 Recipe club is a monthly event where Healthful Evolutions members bring in any healthy dish and share their recipes with each other.  It is one of our favorite monthly events, and we are always so impressed and inspired by their creations! 
Vegetarian Refried Beans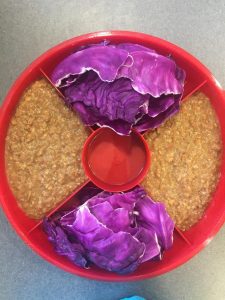 This is one of our very own recipes, click the link here to get the recipe! 
Banana Pumpkin Pie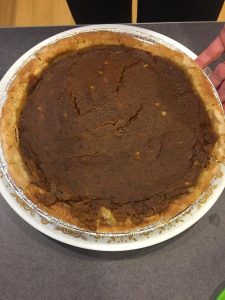 Ingredients:
1 9″ Gluten Free pie crust (ready made at Kroger or make your own)
3 ripe bananas
1 teaspoon pumpkin spice (or more to taste)
1/2 cup almond milk
1/2 cup coconut sugar
Instructions:
Bake at 425 for 15 min/reduce heat to 350 for 35-40 mins until done.
Refrigerate 4 hours before serving.
Linguine with Roasted Vegetable Ragu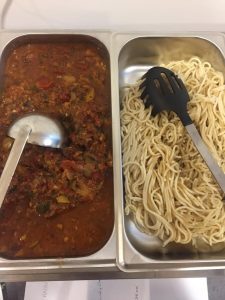 Ingredients:
For the roasted veggies you'll need:
-2 medium-large zucchini
-2 medium-large yellow squash
-1 small red bell pepper
-1 small orange bell pepper
-1 tsp Italian seasoning
-1 tsp garlic salt
-1 Tbsp olive oil
For the ragu:
-1 medium sweet onion
-2 Tbsp olive oil
-3 cloves of garlic, minced
-2 cans [14.5 oz] fire roasted tomatoes
-1 can tomato sauce [28 oz]
-1 tsp dry Italian seasoning
-1 tsp red pepper flakes
-1/4 tsp oregano
-2 Tbsp thinly sliced fresh basil
-1 Tbsp fresh Italian parsley [flat leaf]
-Salt and pepper to taste
-Mushrooms finely chopped
To serve:
-1 lb linguine cooked to al dente (Whole Grain Rotini)
Instructions:
1) Preheat the oven to 450, spritz a baking sheet liberally with cooking spray.
2) Cut the zucchini and squash into 1/2 inch quarters. Slice the peppers. Drizzle with 1 tablespoon of olive oil and season with 1 teaspoon of dry Italian seasoning, 1 teaspoon of garlic salt and black pepper to your taste.
3) Spread the veggies in a single layer on the baking sheet.
4) Roast for 35-40 minutes or until golden, stirring once midway through cooking.
5) While vegetables are roasting, heat 2 tablespoons of olive oil in a stove top pot. Add the diced onion and cook until the onion becomes translucent and is beginning to brown, about 3-4 minutes. Add the minced garlic and sauté for an additional minute.
6) Add the fire roasted tomatoes, tomato sauce, 1 teaspoon dry Italian seasoning, red pepper flakes, sugar and oregano. Season with salt and black pepper to your taste. Simmer over low heat until the vegetables are done.
7) After the vegetables are finished roasting, add to the tomato sauce with the chiffonade of basil and chopped parsley. Toss together until coated.
8) Toss the ragu with the cooked linguine.
9) Serve immediately.
Strawberry-Pistachio Salad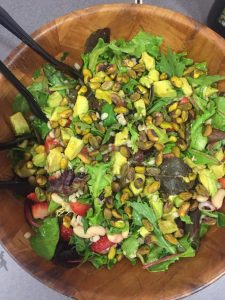 Ingredients:
-1/4 cup orange juice
-2 tablespoons fresh lime juice (from about 1 lime)
-1/4 teaspoon sea salt
-1/8 teaspoon freshly ground black pepper
-1/2 small red onion, chopped or sliced
-2 cups cooked grains (such as barley), cooled
-2 cups strawberries, chopped
-1 1/2 cups cooked cannellini beans, or 1 (15-ounce) can cannelloni beans, drained and rinsed
-5 to 6 ounces mixed baby greens (about 6 cups)
-1/2 cup roasted, shelled pistachios, chopped
-1/2 avocado, diced
High quality balsamic vinegar
Instructions:
1) Combine the orange juice, lime juice, 1/4 teaspoon sea salt, and 1/8 teaspoon pepper in a large bowl. Toss the onions in the dressing; add the grains, strawberries, and beans and tops to combine.
2) Season with salt and pepper to taste. (At this point, the salad can be refrigerated until ready to serve, up to 1 day.)
3) Add the greens and cilantro and toss to combine. Sprinkle with the pistachios, top with the avocado, and drizzle with the vinegar. Serve.
Cucumber Tomato and Onion Salad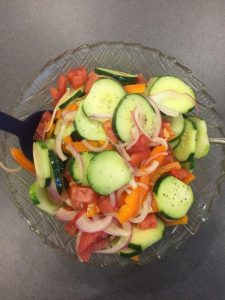 Ingredients:
-3 tomatoes
-3 cucumbers
-1 onion
-1/2 cup apple cider vinegar
-1 tsp cracked pepper
-2 tbsp sugar (your choice)
-2 tsp salt
-1 cup water
-1/4 cup olive oil
For todays salad she added yellow peppers and used no sugar.
Instructions:
Mix well and let chill for 1-2 hours.
Vegetable Taco Bowls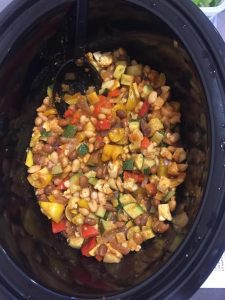 Ingredients:
-1/2 Red onion chopped
-3 cloves of garlic minced
-1 summer squash chopped
-2 zucchinis chopped
-1 yellow pepper chopped
-1 red pepper chopped
-1/3 head of cauliflower chopped
-1 can pinto beans drained and rinsed
-1 can great norther beans drained and rinsed
-Shredded lettuce
Toppings:
-Dairy free sour cream
-Salsa
-Avocado
-4-5 Tablespoons taco seasoning
-1 teaspoon chili powder
-1/2 cup water
-Freshly ground pepper

Instructions:
Sautee vegetables (except beans) until crisp tender in small amount of water, add beans. Stir in taco seasoning, chili powder, pepper and water. Simmer for 15-20 minutes.
Place vegetables in a bowl, top with shredded lettuce, and toppings of your choice.
Green Beans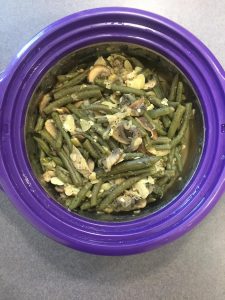 Ingredients:
-Fresh green beans (cooked and drained)
-Mushrooms
-Onions
-Garlic
-Salt and Pepper
-Wild Tree Rancher Steak Rub
-Cooked beans
-4 shakes of hot sauce
-1 tsp Dijon Mustard
1-2 Tbsp Apple Cider Vinegar
Instructions:
Heat, then adjust seasonings as needed.
Easy Apple Chickpea 'Tuna'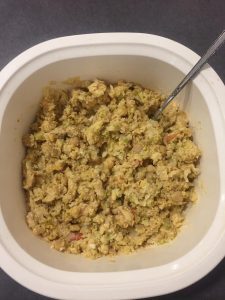 Ingredients:
-3 cans chickpeas, drained and rinsed (or 4 1/2 cups cooked chickpeas)
-1/2 cup celery, chopped small
-2 to 3 pickles, chopped small, or 4 oz dill relish
-1/4 cup nutritional yeast
-3 green onions, chopped
1 small apple, peeled and chopped
-1 tbsp low sodium soy sauce
Cashew Mayo
-1 cup raw cashews, soaked for an hour in warm water
-2 tbsp lemon juice
-1.2 tsp salt
-2 tbs apple cider vinegar
-1/2 tsp ground mustard
-1/2 cup water
Instructions:
1) In a large bowl, mash the chickpeas with a potato masher (or fork) until they are mostly mashed. You can leave a few beans whole if you'd like.
2) Add the rest of the ingredients, and as much mayo as you prefer. I used 3/4 cup for a very creamy 'tuna' but you could certainly use less.
3) Cover and place in the refrigerator for at least 30 minutes if you can, to let the flavors come together and allow it to become cold. You can serve right away too, it will still be good!
4)Serve with whole wheat bread, lettuce, sliced tomatoes and mustard for a 'Tuna' sandwich, or on a bed of greens. I like to make some oil-free Sweet Potato Fries to go along with this.
Cashew Mayo
1)Drain the soaked cashews. Add cashews and the rest of the mayo ingredients to a high powered blender and blend a few minutes until smooth. Store leftover 'mayo' in the fridge for about a week.
Fruit Bowl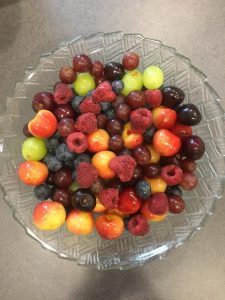 This is just a bowl of mixed fruit!
Including in here is:
Grapes, Cherrys, Raspberries, and Blueberries!
So easy and Delicious!!
Vegetable Tray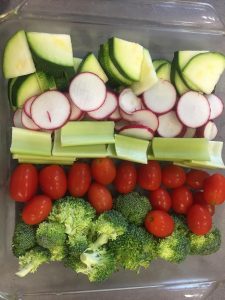 This is simply just Cucumber, Radish's, Celery, Tomato, and Broccoli!
Blueberry and Mango Spinach Salad with Basil Vinaigrette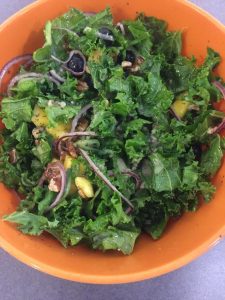 Ingredients:
For the Salad
-6 cubs spinach (or your favorite greens), rinsed
-1 cup blueberries, rinsed
-1 mango, skinned, de-seeded, and chopped
-1/2 large red onion
-6 inch cucumber
-1 cup chopped pecans
For the Dressing
-1 cup fresh loose basil leaves
-1 clove garlic, crushed
-3 tbsp honey (You can also use 3 tbsp of coconut sugar or 2 tbsp brown sugar for a vegan option)
-1/2 tsp ground pepper
-1/2 tsp coarse salt
-1/3 cup apple cider vinegar
-1/2 cup olive oil
Instructions:
1) Layer your salad beginning with the spinach (or greens)
2) If using a spiralizer, spiralize cucumber and red onion, and place on top spinach.
3) Top with blueberries, mango, and pecans. Set aside.
4) Prepare dressing: Place all ingredients into a blender or food processor, and pulse until smooth.
5) Toss salad dressing with salad, extra dressing can be stored in the fridge for up to 2 weeks.
'Rice' Salad
Ingredients:
-1/2 Head of cauliflower grated, or put through the food processor.
-1 1/2 cucumbers, some of the skin removed, chopped into small pieces
-1/2 red onion chopped into small pieces
-2 to 3 tablespoons shredded carrot
-2 to 3 tablespoons finely chopped peppers
-1/2 half cup lemon juice
-1/8 tsp thyme
-1/8 cup olive oil
salt and pepper
Instructions:
1) Put 1/2 cauliflower through a food processor.
2) Bring pot of water to boil, add small amount of salt.
3) Drop shredded cauliflower in pot for 2-4 minutes. Strain, let cool.
4) Mix together cucumbers, red onion, shredded carrot, and peppers. Add on top of the cauliflower. Adjust seasonings to taste.
5) Pour lemon juice, olive oil, thyme, and salt and pepper ontop of cauliflower.
6) Chill until ready to service.
Vegan Ranch Dressing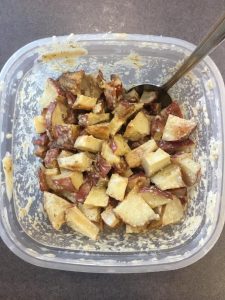 Ingredients:
For the potato salad
-5 heaping cups chopped red potatoes, into 1/2 inch pieces.
For the dressing
-1/2 cup raw, unsalted cashews.
-1 cup low fat canned coconut milk.
-1 1/2 tablespoons apple cider vinegar
-1 teaspoon onion powder
-1/2 teaspoon garlic powder
-1/2 teaspoon celery seed
-1/2 teaspoon dried dill
-1/4 teaspoon dry mustard spice
-3/4 teaspoon fine sea salt
Instructions:
1)Soak the cashews for 8 hours or overnight, then drain. (Only if you don 't have a high speed blender)
2) This recipe works well to prepare early in the day or the day before, so everything is chilled well and the dressing has thickened upon serving. First, roast the potatoes. Preheat an oven to 415 degrees and line a sheet pan with parchment paper, so they don't stick. Chop the potatoes into about 1/2 inch pieces. Spread out evenly on the pan and salt generously and bake for 25-30 minutes until very golden brown.
3) Meanwhile, prepare the dressing. Add all of the ingredients to a high powered blender, such as a Vitamix, and process until very smooth and creamy on high. If using canned coconut milk, make sure you have shaken the can really well first. The dressing will be fairly thin, but will thicken well in the fridge. Pour into a container and chill in the fridge for an hour or two to marinate, so it gets cold and thickens further. The flavor is best after it chills and marinates. If you like, chill the potatoes as well. When ready, remove the dressing and stir well Toss the potatoes with as much dressing as you like. (There will be leftover dressing) Taste and add any extra salt for flavor and garnish with more dill and fresh chopped parsley if desired.