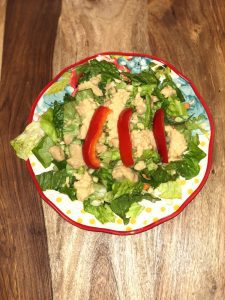 This salad is SO quick and easy to make! Make a big batch of it at the beginning of the week so that way you are prepared.
Ingredients:
1 head romaine lettuce
4 hand fulls of your favorite leafy greens
1 bag raw slaw (or chopped veggies)
2 chopped bell peppers
1 can chickpeas
Hummus Salad Dressing (to add before eating)
Directions:
Cut up romaine lettuce and bell peppers.
Mix together with raw slaw and chickpeas and put in Tupperware containers.
Top with our hummus salad dressing before eating.