May 16, 2018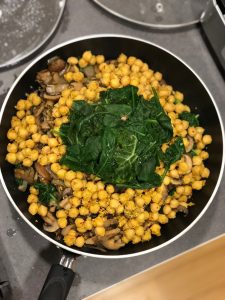 Quinoa Surprise
Dairy Free, Gluten Free, Oil Free
For this month's Cooking Day I wanted to show you all my usual routine. I love making fun new recipes and experimenting in the kitchen but when life gets busy, it is important to have a go to routine!
My Grandma used to make us "keilbasa surprise" which was essentially keilbasa and what ever else she had in the fridge. Nowadays, no keilbasa for me but I love the freedom of cooking with whatever you have in the fridge. Here is the Quinoa Surprise I made in class, but feel free to make it your own! This recipe will give you a big batch to use throughout the week! I also made a soup and few other recipes with the quinoa surprise so that you don't have to eat the same thing all week.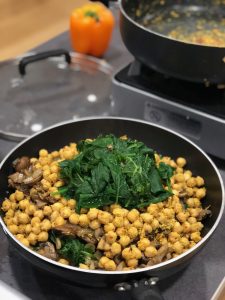 Ingredients:
3-6 Garlic cloves
1 16 oz bag of quinoa
3 containers of mushrooms
2 Shallots
1 bunch of Kale
1 container of spinach
2 cans Chickpeas (drained and rinsed)
Red pepper flakes (to taste)
Nutritional Yeast (to taste)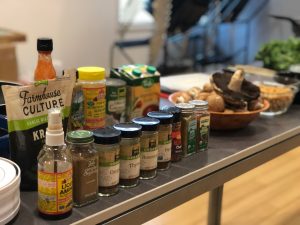 Directions:
1) Chop up your garlic (let it sit for 10 minutes before heating)
2) Start your quinoa (cook about 15 minutes) I cook with a little extra water than what is required. ***be sure to rinse the quinoa before cooking***
3) In a separate pan add your mushrooms, garlic, and shallots and sautee in veggie broth
4) When the quinoa is finished, set aside.
5) Steam your kale and spinach.
6) Add everything together in a large pot
7) Lastly, heat your chickpeas in pan and add Red Pepper Flakes and Nutritional Yeast and then add to quinoa mix. (I only put spices on the chickpeas so that you can spice it up and add to it throughout the week for different recipes)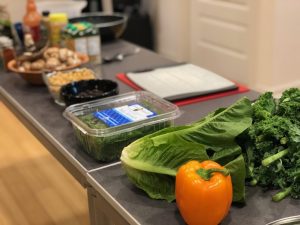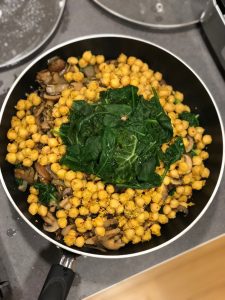 Check out 3 other ways you can make Quinoa Surprise by clicking the links below:
– Quinoa Stuffed Portobello Mushrooms