November 17, 2016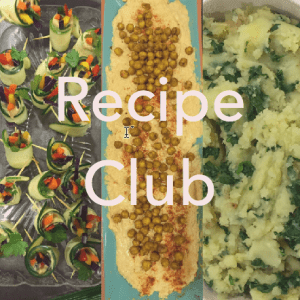 November Recipe Club
This month we were SO impressed by the amazing recipes our members brought, that we wanted to share them with all of YOU! Below are some of the dishes from our recipe club, some by creation, others with links to the recipes they used.
We are so inspired by our members, we hope you are too!
Scalloped Sweet Potatoes
V, GF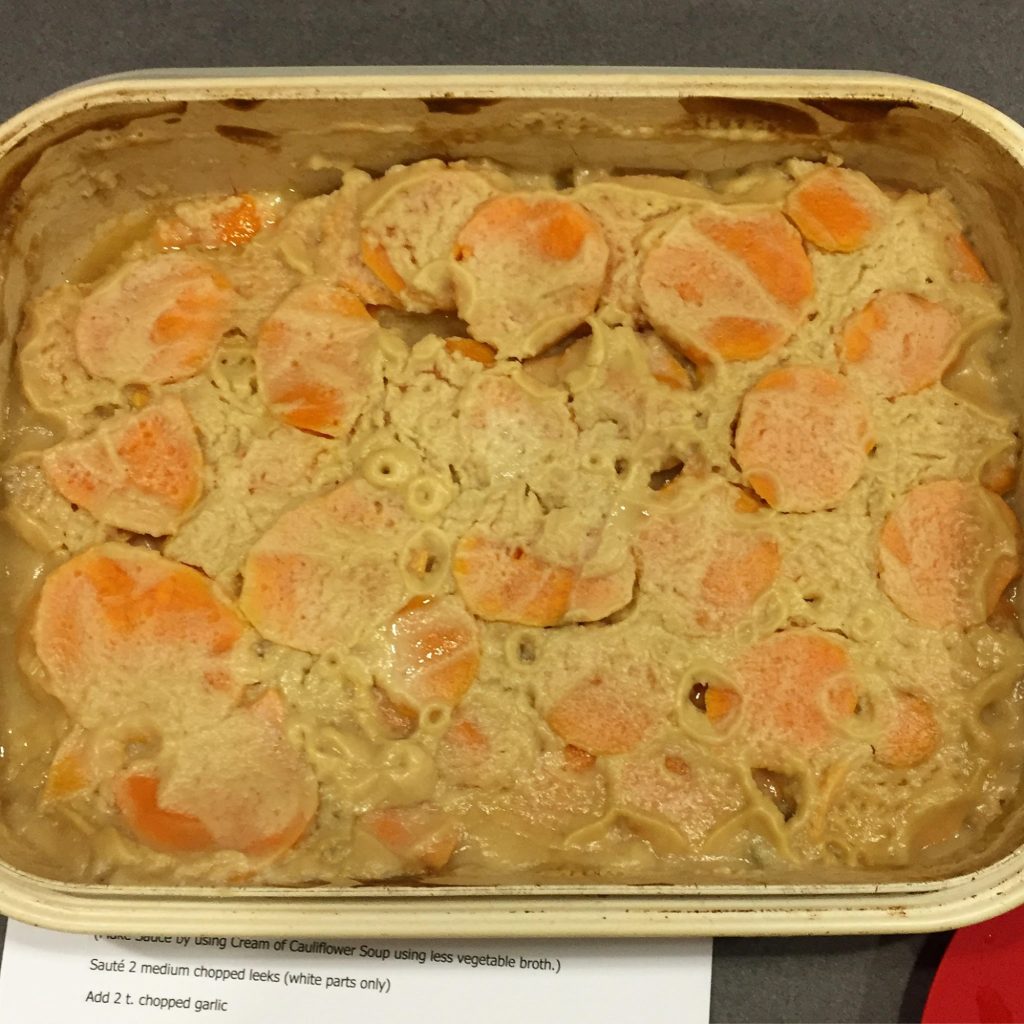 For Creamy Cauliflower Sauce:
– sauté 2 medium chopped leeks (white parts only)
– add 2 tsp. chopped garlic
– 1qt. vegetable broth
– sea salt to taste
– 1 head cauliflower, chopped
– Cook until vegetables are soft. Allow it to cool before blending to make smooth. While blending add 1/4 cup soaked raw unsalted cashews, or 1/4 cup soaked blanched slivered raw almonds (it took 3 batches with my blender).
– *Use less vegetable broth to make it a creamier sauce
For Sweet Potatoes: 
– Slice several sweet potatoes approximately 1/4″ thick (I used 7) 
– Layer creamy cauliflower sauce and potatoes, or mix in a large bowl until all of the potato slices are coated. 
– Bake at 350F for 1 hour or until potatoes are tender. 
– I only used about 3/4 of the sauce. This sauce can be thinned with more broth for a creamed soup, or used to cream vegetables of your choice, pasta etc.
Yellow Squash Paprikash
V, GF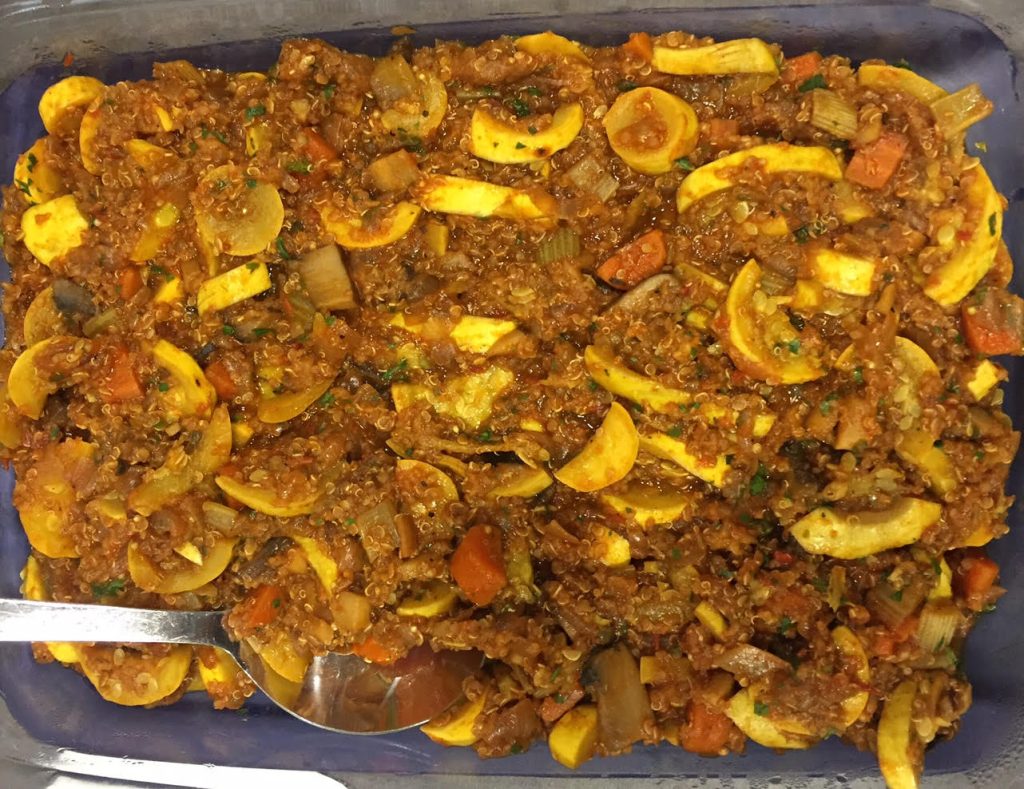 – 1 large onion/diced
– 10oz sliced mushrooms
– 1 small diced red pepper
– 1 tbs olive oil (optional)
– 1 tbs. paprika
– 3 cups vegetable broth (step #1 or step #3)
– 2 diced carrots
– 2 diced celery stalks
– 1/3 cup rinsed quinoa
– 3 cups diced yellow squash
– 2 tbs. chopped fresh parsley
– salt & pepper optional
Medium Heat
1) sauté diced onion, 10 oz of sliced mushrooms and small diced red pepper with *optional olive oil – or – 3 cups of vegetable broth for 3-4 minutes
2) add paprika and sauté for an additional 30 seconds
3) add 3 cups of vegetable broth (if you didn't do this in step #1) sauté for 1 minute
4) add diced carrots and diced celery – cook until these are soft
5) add rinsed quinoa – cook for 10 minutes
6) add 3 cups of diced yellow squash – cook for 3-4 minutes
7) turn off heat – add chopped parsley
Avocado Cucumber Salad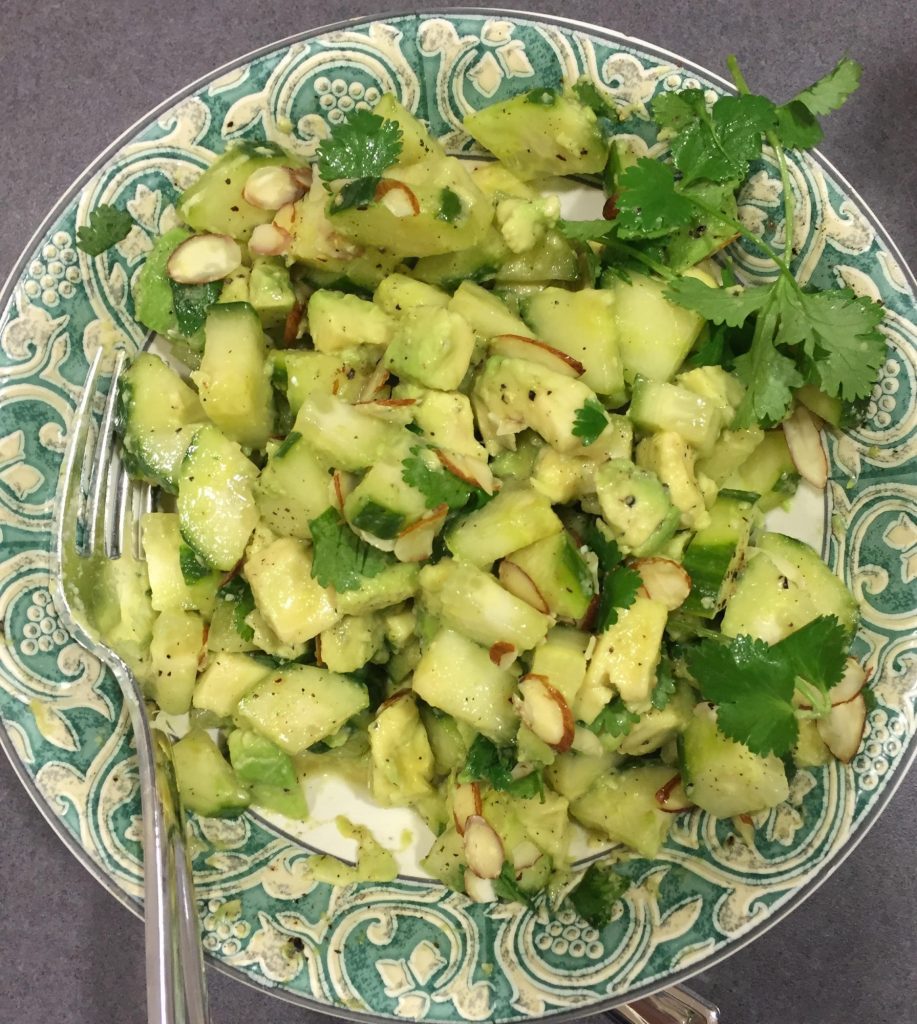 – 1 large cucumber, sliced in quarters
– 2 avocados, chopped
– 1/4-1/2 cup cilantro, chopped
– 3 tbs. lemon juice
– 2 tbs. lime juice
– 1/2 tsp. sea salt (optional)
Place chopped cucumber, avocado, and cilantro in a medium bowl. If you are not a fan of cilantro, start with using only 1/4 cup. Add lemon juice, lime juice, and sea salt to the chopped vegetables. Toss gently to combine. Taste and add additional cilantro and sea salt to taste. Leave to sit and marinate for 5-15 minutes.
Vegetable Grilled Quinoa
V, GF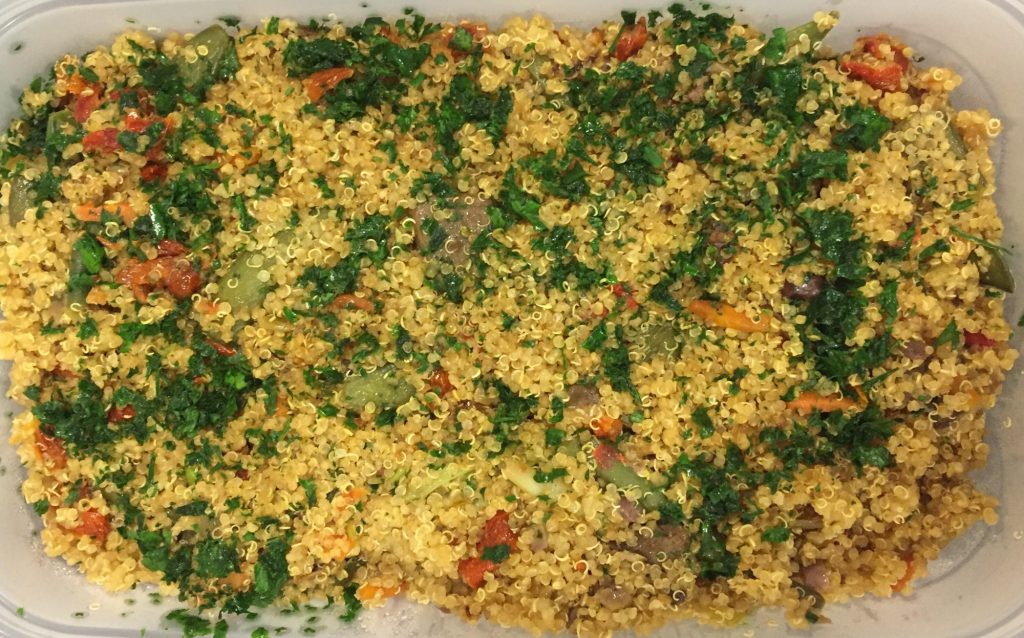 – 1 cup chopped broccoli tops
– 1 cup sugar snap peas
– 1 cup green beans
– 1 cup carrots
– 1/2 cup celery
– 1/4 cup chopped onion
– 1 cup chopped mushrooms
– 1/2 cup red bell pepper
– 1 1/2 cup cooked quinoa
– 1/4 cup sun dried tomato
– 7 olives (green/purple) your choice
– 1 tbs. chopped parsley
– 1/2 tsp. coriander
– 1/2 tbs. cumin
– 1 tbs. liquid amino acids (soy sauce alternative)
– 3/4 cup vegetable broth
– salt and pepper
Prep:
Sauté vegetables in large pan with 1/2 cup vegetable broth until tender, add the cooked quinoa, spices, and the rest of the vegetable broth, leave to cook for 3 minutes, then add the soy sauce alternative, sun dried tomato, olives, and salt and pepper. Turn off the heat, and sprinkle on parsley.
Parsnips and Pears
V, GF
(a sweet tasting alternative to mashed potatoes!)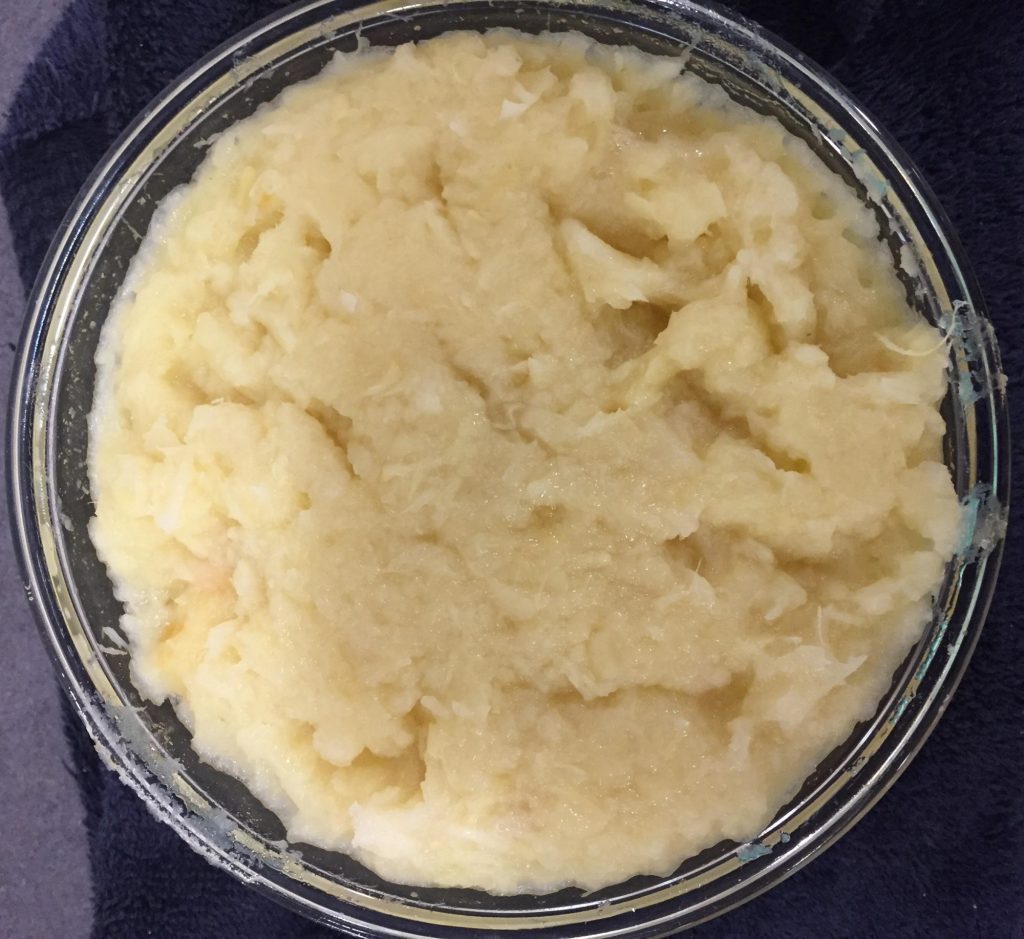 – 2 cups parsnips
– 1 cup pears
– 1/2 cup water
Peel both parsnips and pears. Place parsnips in one pot and place pears in another with 1/2 cup of water. Boil both until fork tender. Reserve the pear water for later. Drain water from parsnips, mash, add pears. Add water until you have the consistency you want.
Vegan Mashed Potatoes with Garlicky Kale
V, GF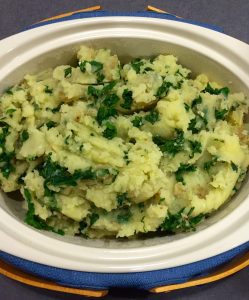 http://www.emilieeats.com/vegan-mashed-potatoes-garlicky-kale/
*They also left out the olive oil, and cut out most of the salt!
Rainbow Zucchini Rolls 
V, GF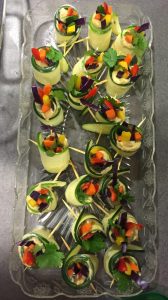 http://www.peta.org/recipes/rainbow-zucchini-rolls/
Apple, Grapefruit, Pomegranate Salad
V, GF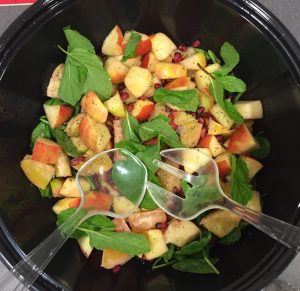 http://www.forksoverknives.com/recipes/apple-grapefruit-pomegranate-salad/
Pumpkin Pie Squares with Macadamia-Vanilla Frosting
V, GF