Wellness Wraps & Hummus Recipes
December 28, 2016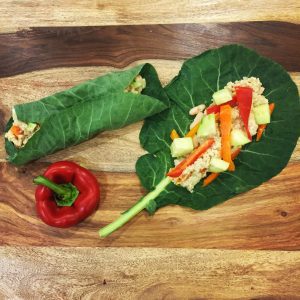 Wellness Wraps are a great alternative to a classic sandwich or wrap. They are loaded with nutrients, AND they are gluten free and plant-based.
For Wrap
Ingredients
– 1 collard wrap (you could also use romaine, butter lettuce, or a regular gluten free lavash)
– 1/2 bell pepper diced (red, yellow, or orange)
– 1/2 cucumber diced
– 3/4 cup cooked quinoa
– 3 tbsp. hummus
Directions
Combine quinoa, hummus, cucumber, and diced peppers & mix. Add more hummus, quinoa or veggies to taste!
*You can add any other desired veggies or beans, such as whole chickpeas, cabbage, or shredded lettuce. For a spicy kick top off with hot sauce 😀
For Hummus
Ingredients
– 2 cans organic chickpeas
– 2 tbsp. tahini or more for creaminess
– 2 cloves garlic
– 1/2 lemon
– Water as needed to thin
Directions
– In a food processor, combine 1 can drained chickpeas, and 1 can chickpeas with the brine. (To make a creamier hummus, you can use 1 can of navy beans in replacement of one of the cans of chickpeas).
– Add remaining ingredients, and blend to desired texture.