Stuffed Peppers with Quinoa
November 1, 2017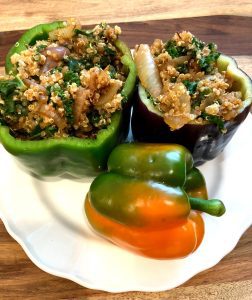 Quinoa Stuffed Peppers
This recipe takes about 15 minutes of prep, and 15 minutes to bake! It is great to make for dinner, or for a weekly food prep. Enjoy!
Ingredients:
– 2 cups quinoa (rinsed and soaked)
– 3 bell peppers
– 1 bushel kale (chopped / shredded)
– 3 cloves garlic (chopped)
– 1 small onion (chopped)
– 1/2 cup low sodium vegetable broth
– 1 tablespoon nutritional yeast
– Spices: Cayenne, Corriander, Thyme 1 tsp each (or to taste)
Directions:
Add 2 cup quinoa & 4 cups water to a saute pan. Bring to a boil, then lower to a low simmer and cover for 15 minutes or until most of the water has evaporated. You will know the quinoa is cooked because it will have a small tail that pops up.
*It is always good to soak quinoa for 5-8 hours or overnight to remove the protective coating quinoa has called saponin. If you can't soak quinoa, a quick rinse will also work.
– While the quinoa is cooking heat vegetable broth in a large saucepan, and add the onion and garlic. Cook for 3-5 minutes on low. Stirring frequently.
– Add kale, nutritional yeast, and spices. Cook for another 5 minutes.
– When the quinoa is done cooking, add it do the onions and garlic. Cook for another 2-3 minutes.
– Cut off the tops of the bell peppers, and scoop out any seeds on the inside.
– Stuff the peppers with the quinoa veggie mix.
– Place the stuffed peppers in the stove at 375F for 15 minutes.
– Depending on the size of the peppers, you may have leftover quinoa you can save for other meals throughout the week!
– Enjoy!