Steel Cut Oats Breakfast Blend with lots of Omega 3's
February 28, 2017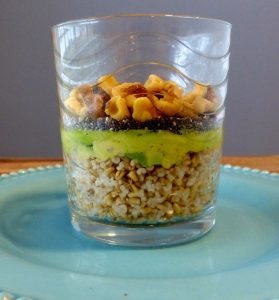 Steel Cut Oats Breakfast Blend with lots of Omega 3's
(Gluten free, plant based, oil free)
Did you know Omega 3's:
– Fight depression and anxiety
– Promote brain health
– Help lower bad cholesterol and blood pressure
– Fight inflammation
– Help fight auto-immune disease
– And More
…so why not start you day with a big dose of them?!
Want more great information about the foundations of a healthy life? Download the first installment of our NEW 7-part eBook series The 7 Habits of Highly Healthful People for FREE right now, right HERE!
Ingredients
– 1/4 cup steel cut oats (cooked) *Instead of oats this recipe is also delicious with cannelloni beans.
– 1/2 avocado (smashed)
– 2 tbsp. chia seeds
– Small handful of walnuts (crushed)
Directions
1. First layer steel cut oats on the bottom of a bowl or mason jar. Sprinkle chia seeds on top of the oats.
2. Add a second layer of smashed avocado.
3. For the third layer top with walnuts.
4. Optional toppings: If you like spice, red pepper flakes & hot sauce are a surprisingly delicious add on to steel cut oats!  If you prefer something sweeter sprinkle in some cinnamon.