Zucchini "Pasta" Mushroom Alfredo (Dairy-Free, Gluten-Free)
January 22, 2018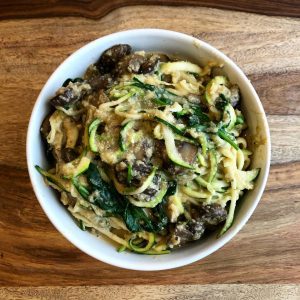 Creamy Zucchini Alfredo (Dairy-Free, Gluten-Free)
This recipe uses our creamy garlic herb sauce to make a delicious Pasta Alfredo that is completely plant based, oil-free, and gluten-free!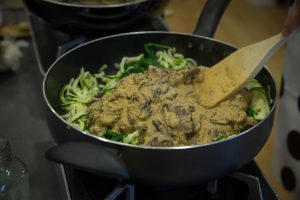 Ingredients:
– 5 zucchini, spiralized (here is the spiarlizer we used, but any spiralizer will work!)
– 1 cup low sodium vegetable broth
– 2-3 cups mushrooms
– 1-2 cups creamy garlic herb sauce (see recipe here)
– 3 cups spinach
Directions:
– Heat ½ cup vegetable broth in a saucepan or wok, and add 2-3 cups sliced mushrooms. Stir frequently. You should not need to add much more broth to this because mushrooms have a lot of water in them already. Cook for about 20 minutes, stirring frequently.
– After 20 minutes of cooking, drain out some of the excess broth / water in the mushrooms, then add the creamy garlic herb sauce into the saucepan and mix. Cook for another 1-2 minutes.
– In a separate pan, heat 2 cups water on medium heat. Add 3 cups spinach, and let cook down for 1-2 minutes, or to desired texture. Drain the water.
– While the spinach is cooking, heat 3-4 cups water to medium heat. Add spiralized zucchini, and heat for 2-3 minutes. You don't need to let the water boil, or let the zucchini stay in the water for too long, because they can overcook quickly.
– Strain the zucchini noodles, add the strained spinach, then add to the creamy mushroom sauce. Stir, and enjoy!
– Add red pepper flakes for some spice!