March 21, 2017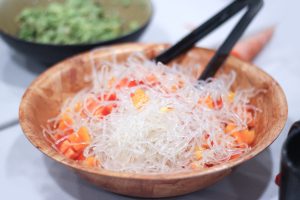 Raw Kelp Noodle Salad:
This recipe is great for a meal, or for entertaining guests! Kelp noodles are a great pasta alternative, and are quite filling.
Ingredients
– 1 package of Kelp Noodles (soaked for a few minutes before serving, you can find kelp noodles in the sea vegetable section of whole foods)
– 2 bell peppers, chopped (red, yellow, or orange)
Directions:
– Chop up the kelp noodles and add into a large mixing bowl
– Mix in bell peppers
– Top with carrot ginger dressing or our oriental dressing
– Enjoy!