March 1, 2017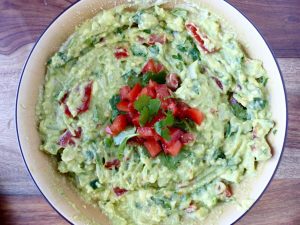 Grapefruit Guacamole
Did you know the secret ingredient to incredible guacamole is grapefruit? This recipe comes straight from our Wellness Director Nicole and it is one of our favorites. Enjoy!
Ingredients
– ​2 avocados
– Juice of 1/4 grapefruit
– 1 jalapeno chopped fine
– 1/2 yellow onion chopped fine
– 1 tomato chopped fine
– Handful of cilantro and basil chopped fine
Want more great information about the foundations of a healthy life? Download the first installment of our NEW 7-part eBook series The 7 Habits of Highly Healthful People for FREE right now, right HERE!
Directions
– Combine all ingredients and mash with a fork 🙂  Serve with sliced bell peppers and cucumbers, or any other veggies and enjoy!