When we first start making changes to our diet, a lot of times we felt like there are certain things we can never have again, or maybe you can never have "Mexican Night" again. That is NOT the case! 🙂
Nicole made this super easy Mexican Quinoa Bowl that is PERFECT for a family Mexican night! One thing Nicole keeps in mind as inspiration for our Cooking Days is thinking about the foods that are common to eat on the go, like Chipotle or Qdoba, and finds a way to make it healthy! Enjoy 🙂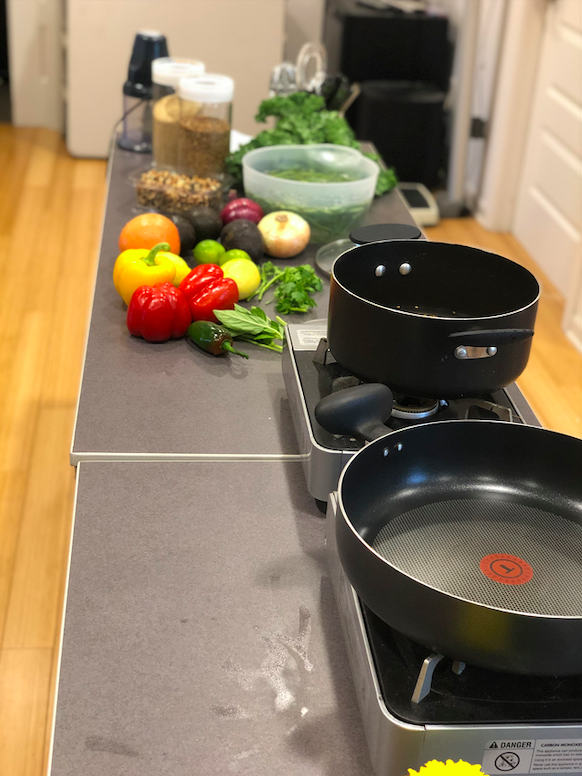 Everything for our cooking day Nicole bought from the Royal Oak Farmers Market. She got organic mushrooms (shitake & cremini), raspberries, steel-cut oats, organic lettuce, sweet leaf kale, cabbage, garlic, green beans, and beautiful flowers! (not all used in this recipe) Check out the recipe below.
Ingredients:
Lentil Taco "Meat" (click the link for ingredients, or see below to Express Recipes)
Grapefruit guacamole (click the link for ingredients, or read below to Express Recipes)
2 cups cooked quinoa
1 red onion chopped
Splash of veggie broth (to cook your veggies in)
1 cup green beans cut in half
3 cups kale (or 1 bunch)
2 diced peppers (we used red and yellow)
Directions:
Start making your Lentil Taco "Meat".
While the lentils are cooking for your Lentil Taco "Meat", make your grapefruit guacamole (we substituted the tomatoes for red pepper, this makes it detox friendly!)
Next, you'll start cooking your quinoa in a pan for about 10-15 minutes or until the quinoa has absorbed all of the water.
Once the quinoa is done, add your kale! Let that cook just for 1-2 minutes. The base for your Mexican Bowl is now complete. Next move on to cooking the veggies 🙂
Add your onion to a pan with some veggie broth and cook for about 13-15 minutes. You want to make sure that you add enough veggie broth so the onions don't start burning! We want it to caramelize, but not burn.
Add green beans to the onions and continue cooking for 3-5 minutes or until the green beans are cooked to the desired texture.
Combine quinoa, onions, green beans, lentil meat, grapefruit guacamole to a bowl and top with your peppers!
Mix it all together and enjoy 🙂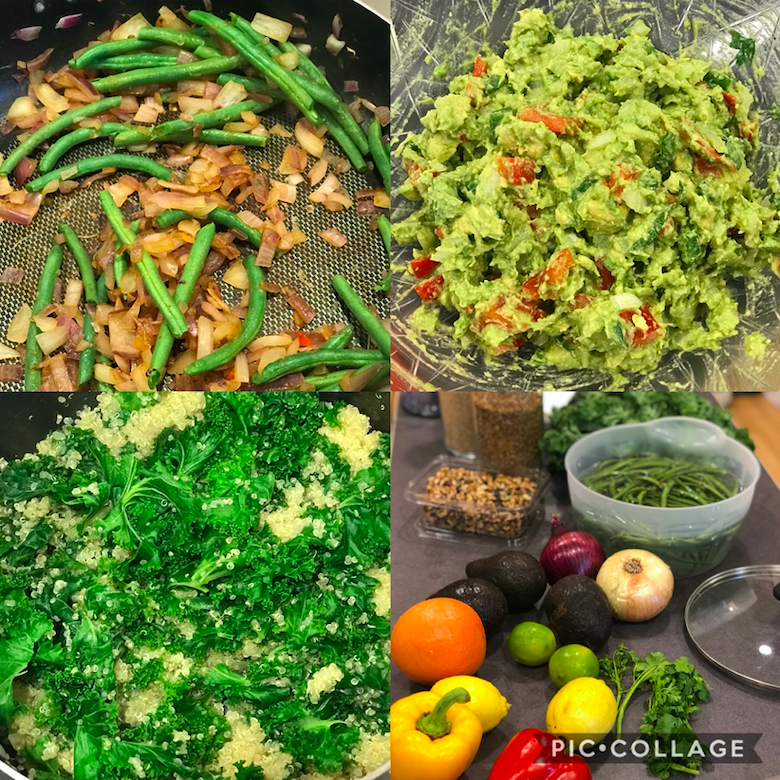 Express recipes:
Lentil Taco "Meat"
Ingredients:
1 cup brown lentils
2 cups of water
1/2 tsp. of cayenne, garlic, red pepper, chili, onion powder, paprika, oregano, and cumin combined to make your own taco seasoning (often store-bought taco seasonings will have added sugar, preservatives, or artificial flavors).
1 cup walnuts
Directions:
In a cooking pot combine water and lentils and bring to a boil. Lower to a simmer, and cook for about 15 minutes.
Once lentils are cooked through (you can taste test), drain out water and place into a saucepan. Heat on medium to toast the lentils for about 2-3 minutes, stirring frequently to ensure that they don't burn.
Place walnuts and spices into a food processor or blender, and do a very light pulse to slightly chop the walnuts. Then add in the toasted lentils. You may have to do this in batches. You should have close to an even amount of lentils and walnuts.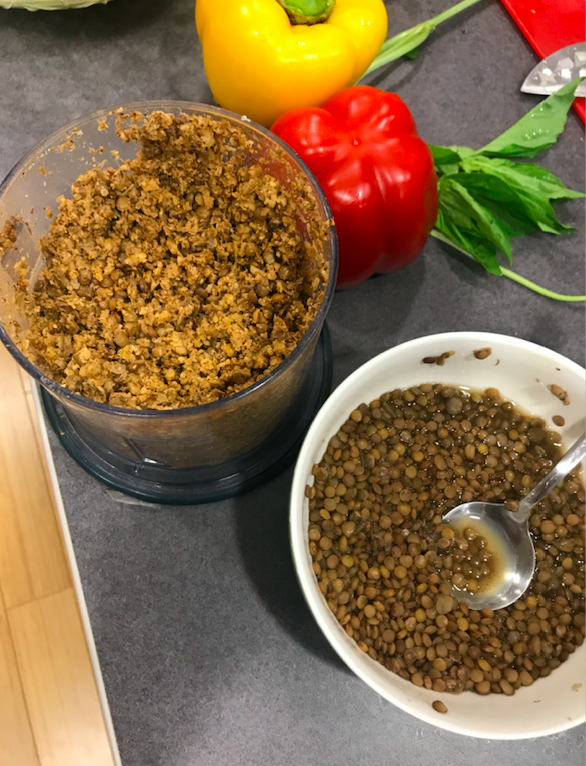 Grapefruit Guacamole
Ingredients:
2 Avocados
Juice of 1/4 grapefruit
1 jalapeno chopped fine
1/2 yellow onion chopped fine
1 tomato chopped fine (we used red pepper to make it detox friendly)
A handful of cilantro & basil chopped fine
Directions:
Combine all ingredients and mash with a fork 🙂