Cream of Zucchini and Mushroom Soup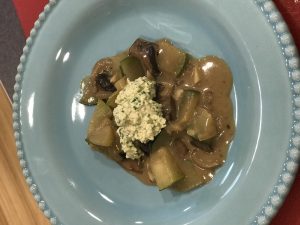 This recipe is not only detox friendly, but it's delicious too! It's perfect for the fall weather that's soon to be here. We topped this with our Basil "Ricotta" Sauce and we used just about the same ingredients for this recipe as we did to make the Creamy Coconut Zucchini Casserole. Enjoy!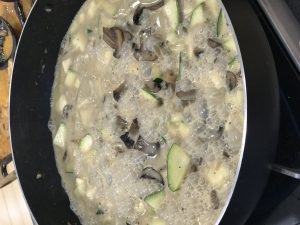 Ingredients
2 Cups Button Mushrooms
2 Shallots
6 Garlic Cloves
5-6 Zucchini
3 Raw Banana peppers
1 can coconut milk
Directions:
1) Cut up garlic and let it sit for 10 minutes
2) Cut up shallots and mushrooms
3) Add shallots, mushrooms, and garlic in a pan and start to sauté in vegetable broth for 10-15 minutes or until brown
4) Add coconut milk and continue cooking.
5) Cut up zucchini and add it into the pan with mushrooms, shallots, and garlic
5) Cook for about 10-12 minutes
6) Serve as a soup and add toppings like the Basil "Ricotta" sauce. 🙂