Creamy Coconut Zucchini Casserole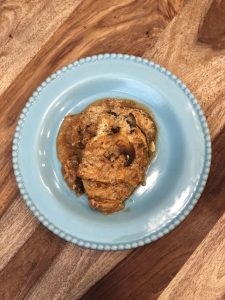 For this month's Cooking Day recipe, we used up some FRESH zucchini that one of our members generously gave to us (along with many other veggies!). We are so grateful to have such amazing gardeners who think of us. And check out the size of this zucchini!!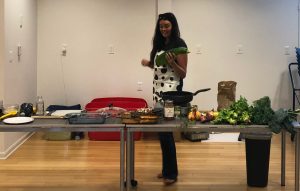 We made a Creamy Coconut Zucchini Casserole with Basil "Ricotta" Sauce and a Cream of Zucchini and Mushroom Soup. If you're someone who isn't new to our recipes here at WTI, you will notice a pattern and that is… COCONUT MILK! We use this as a substitute for regular dairy milk. It adds such a GREAT and UNIQUE flavor that is bound to set your dish apart at any party.
Ingredients
2 cups Button Mushrooms
2 Shallots
6 Garlic Cloves
5-6 Zucchini
3 Raw Banana peppers
1 can coconut milk
1 bottle of tomato sauce (we used organic Bello Spicy Marinara)
1 1/2 cup Basil "Ricotta" Sauce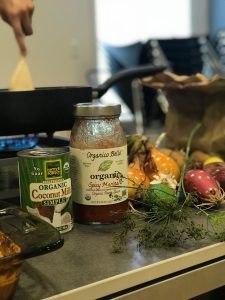 Directions:
1) Cut up garlic and let it sit for 10 minutes.
2) Cut up shallots, mushrooms, and banana peppers.
3) Add shallots, mushrooms, banana peppers, and garlic in a pan and start to sauté in vegetable broth for 10-15 minutes or until brown. Add coconut milk and cook for an addition 2-3 minutes.
4) Cut up zucchini into little discs and add them to a glass pan while mushrooms are cooking.
5) Start layering tomato sauce, zucchini, and mushrooms mix in your glass pan.
6) Add a layer of Basil "Ricotta" Sauce on top.
7) Cook in the oven for about 45 minutes at 350 degrees.
8) Let cool down and serve 🙂