July 12, 2017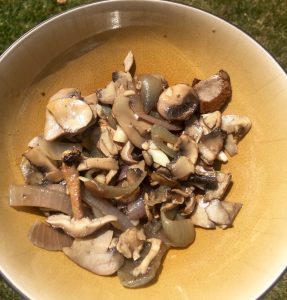 Sautéed Mushrooms
Cooked mushrooms are easy to make, and they are great to eat as a side dish, to add to a salad, or to put in lettuce cups as a wrap. In addition, mushrooms are one of the most beneficial foods to prevent cancer, and they are loaded with nutrients!
Ingredients:
– 2 cloves garlic, chopped
– 1/2 cup low-sodium vegetable broth (more as needed)
– 1 small onion, chopped
– 2 cups mushrooms
---
[Want to bust belly fat once and for all? Watch this video right now, right here!]
---
Directions
– Chop garlic first and let sit for 10 minutes, allowing it to sit before cooking preserves the allicin which is a powerful anti-inflammatory component of garlic.
– Warm vegetable broth in a sauté pan, and add onions and garlic. Cook for 3-5 minutes.
– Add mushrooms, and cook for 15-20 minutes on low, or until the mushrooms are cooked down.
How to eat:
Enjoy in lettuce cups, as a salad topping, or as a delicious snack 😀