July 11, 2017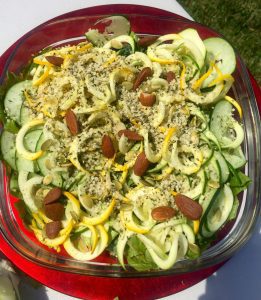 Summer Salad
Summer is the perfect time to add lots of raw veggies into your diet! This summer salad has a variety of veggies, and it will last you 4-5 servings making it a perfect salad to use for a weekly food prep. As far as finding produce, we always say that local is best, organic is next. So check out your local farmers market this weekend and see what produce they have!
One of our suggestions for maintaining a healthy diet is to get into the routine of weekly food prep. That way you always have healthy options, especially when you are busy! This is a great salad to prepare before your week. Keep it in the fridge, and add dressing as you are eating.
Ingredients:
– 1 cup kale, chopped
– 1/2 cup leaf lettuce, chopped
– 1/2 cup romaine lettuce, chopped
– 1 small head broccoli, chopped (you can cut the stalk of the broccoli into very thin slices and it adds an awesome crunch to your salad)
– 1 handful of snap peas, chopped
– 1/2 spiralized squash, zucchini, and cucumber
– Top with 1 cup chickpeas
Directions:
Mix all ingredients and store in a large glass container.  Add dressing as you are eating, feel free to top with anything else you can think of!  This salad will go great with any of our oil-free dressings, click here for blog post of healthy dressings.