February 2, 2017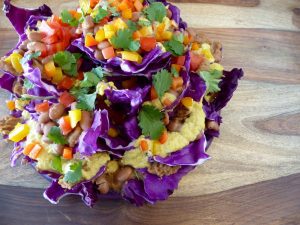 Vegan Nachos
These veggie nachos are a HUGE crowd please here at our office. All ingredients are dairy-free, gluten-free, and plant-based making them not only delicious but also packed with nutrients!
Ingredients
– 1 head of cabbage
– 1 can of Amy's refried beans (Amy's is an organic brand we love, they also have a great vegan chili)
– 1-2 tbsp. cilantro
– Nicole's cheese sauce (click here for recipe)
– Handful of chopped bell peppers (yellow, red, or orange)
– 1 can pinto beans
Directions
– Peel leaves off of one head of cabbage and set aside.
– Layer the bottom of your plate with cabbage leaves. Spread on refried beans, and some pinto beans.
– Repeat until you have stacked the entire plate with beans and cabbage leaves.
– Top off with chopped peppers and cilantro.
– Add our Grapefruit Guacamole, Cashew Sour Cream, or Lentil Nut Meat to the nachos for a refreshing twist!
Directions
– In a food processor combine cashews, vegetable broth, garlic, nutritional yeast, mustard, and juice of 1/2 lemon. Blend until thin.
This is an example of the nachos topped with cashew sour cream and lentil meat!
One of our members brought a version of this to our recipe potluck and it was a hit!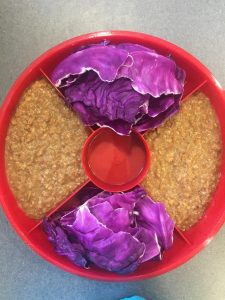 Before AND After!
When using canned beans it is important to buy organic, and nutritional yeast is one of our favorite cheese substitutes!