July 11, 2017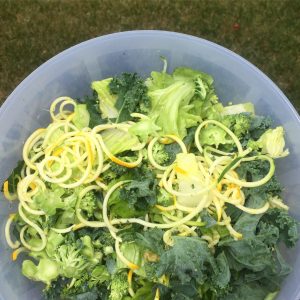 Raw Veggie Power Salad
Raw vegetables are alive, this means that for most vegetables their raw form contains the most nutrients! Summer is a great time of year to start incorporating more raw foods into your diet. This salad includes a lot of raw vegetables, and will make 4-5 servings so it will work great as a weekly food prep.
Ingredients:
– 2 cups romaine, chopped
– 1 cup kale, chopped
– 1 green onion, chopped
– 1/2 cup snap peas, chopped
– 1/2 cucumber (spiralized then chopped)
– 1/2 zucchini (spiralized then chopped)
– 1/2 squash or 1 small squash (spiralized then chopped)
– 2-3 tablespoons hemp seeds
– 1 handful raw sunflower seeds
– Freshly ground black pepper
– Option to top with sautéed mushrooms
Directions:
Mix all ingredients and store in a large glass container.  Add dressing as you are eating, feel free to top with anything else you can think of!  This salad will go great with any of our oil-free dressings, click here for blog post of healthy dressings.