December 5, 2017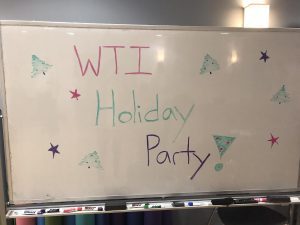 Thanks to everyone who joined us at this year's Christmas recipe club. We are always so impressed with their creations. Recipe club is a monthly event where Healthful Evolutions members bring in any healthy dish and share their recipes with each other. It is one of our favorite monthly events.
Butternut Squash Mac and Cheese
Gluten Free AND Vegan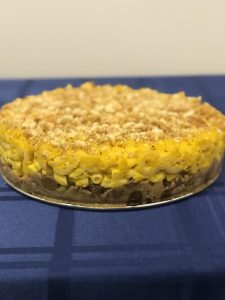 You can also find this recipe here
Ingredients:
– 1 butternut squash, medium
– 1 tbsp Avocado oil
– 1 Yellow onion, small
– 4 Garlic cloves, minced
– 1/2 tsp Sage, dry
– 1 tsp Thyme, dry
– 1 to 2 cups Vegetable broth
– 1 package elbow noodles, gluten free
– 1 tsp Paprika
– 3 tsp Himalaya Pink Salt
– 1/2 tsp Cumin
– 1 tsp Oregano
– 1 handful Parsley, fresh and chopped
Instructions:
1. Peel butternut squash, and cut into cubes.
2. In large stockpot, heat avocado oil on med-high, and sauté onion. Add garlic, sage, and thyme once onion is soft, and sauté for about 30 more seconds.
3. In same pot, add 1 cup of vegetable broth and bring to a bowl. Add butternut squash, bring back to a boil, and then reduce heat to med-low.
4. Cook butternut squash for about 15 minutes, or until it becomes soft.
5. Add all ingredients from pot to high speed blender or food processor and let it cool while you cook noodles.
6. In the pot you were previously using, cook noodles according to package.
7. Add paprika, sea salt, cumin, and oregano to blender, and blend all the ingredients until smooth. (This is where you may want to add more vegetable broth or water if the sauce looks too think for your liking.)
8. Pour sauce over cooked noodles, stir until covering all pasta.
9. Garnish with chopped parsley, and enjoy!
Notes: If sauce is too thick, slowly add more vegetable broth or water in the blender until you reach desired consistency.
When making layered mac & cheese. Bake for 30 minutes on 350 degrees.
1 cup of soaked cashews were added to make it thicker. Soak overnight and then drain.
Sweet Potato Pie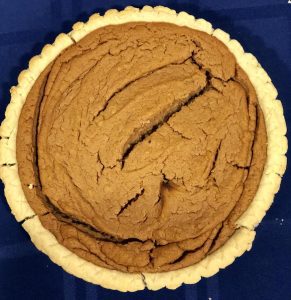 You can also find this recipe here
Ingredients:
– 1 unbaked pie crust
– 2 large sweet potatoes (about 2 lbs total)
– 1/2 cup packed light brown sugar (sup coconut sugar or maple syrup)
– 1 tablespoon vanilla extrract
– 2 teaspoons ground cinnamon
– 1 teaspoon ground ginger
– 1/3 teaspoon ground nutmeg
– 1/2 teaspoon fine salt
– 4 large eggs
– 1 (12-ounce) can evaporated milk (1 3/4 cups) Almond of coconut canned milk
Equipment
– Measuring cups and spoons
– Food processor
– 10 inch tart pan
Instructions:
1. Bake the sweet potatoes: Arrange a rack in the middle of the oven and heat to 375 F. Place the sweet potatoes directly on the oven rack (place a piece of aluminum foil onto the rack below if you're worried about drips). Bake the sweet potatoes until tender, about 1 hour. While the potatoes bake, prepare the crust for baking.
2. Prepare the pie crust: Roll out the pie crust into an 11 inch round. Transwer it to a deep, 10-inch round tart pan and use it to line the bottom and sides of the pan, pressing the dough into the sides as needed. Refrigerate while the sweet potatoes bake and while preparing the filling, at least 30 minutes.
3. Cool the sweet potatoes and scoop out their flees: Cool the potatoes for about 30 minutes, or until you can comfortably handle them. Cut the sweet potatoes in half lengthwise and scoop the flesh out into a food processor fitted with the blade attachment. (Alternatively, store the sweet potato flesh in the refrigerator for up to 1 week before proceeding.)
4. Puree the sweet potatoes: Process the sweet potatoes until very smooth.
5. Make the filling: Add the brown sugar, vanilla, cinnamon, ginger, nutmeg, salt, eggs, and evaporated milk to the food processor and pulse to combine.
6. Fill the crust: Place the tart pan on a parchment-lines baking sheet. Pour the filling into the crust. The filling should come almost to the top of the crust, but be carefully not to overfill. You may have a 1/4 to 1/2 cup of extra filling, which you can bake alongside the pie in an oven-safe ramekin, if desired.
7. Bake until the center is just set: Bake until the top appears dry (it may puff and crack slightly around the edges) and the center jiggles, but doesn't wiggle, when nudged, about 45 minutes.
8. Cool: Cool the pie completely before serving- it will continue to set as it cools.
Recipe Notes
Tart pan alternative: No tart pan? Use a deep pie plate and blind bake the crust before filling. Cover the pie crust with parchment paper and fill with dried beans (or pie weights). Bake until the edges just start to brown, 12 to 15 minutes. Remove the weights and parchment, and bake for another 5 minutes before filling and proceeding with the recipe.
Make ahead: This pie can be baked up to 2 days ahead; wrap tightly in plastic wrap and refrigerate until ready to serve. Serve cold or at room temperature.
Vegan Carrot Zucchini Muffins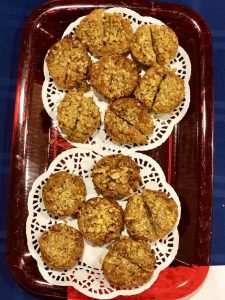 You can also find this recipe here
Ingredients
– 2 medium carrots, grated. (1 heaping cup)
– 1 Apple
– 1 small zucchini, grated (squeeze out the water)
– 1 cup whole wheat flour
– 1 cup rolled oats
– 1.5 teaspoon Baking powder
– 1/4 coconut sugar
– 1 teaspoon cinnamon
– 1 small banana, mashed
– 1/4 teaspoon salt
– 1/4 cup canola or olive oil
– 1/2 cup almond or oat milk
– 3/4 cup walnuts, roughly chopped
Instructions:
1. In a medium bowl, combine all dry ingredients.
2. Add grated carrots, the apple, the zucchini, and the mashed banana. Stir in the almond or oat milk, the oil and about half of the chopped walnuts. Mill until well combined.
3. Place baking cups in a muffin pan and divide the mixture evenly. Sprinkle with the rest of the walnuts. Bake for about 30 minutes at 356 F (180 C) Let cool down in the muffin tin for at least half an hour.
Pineapple Whip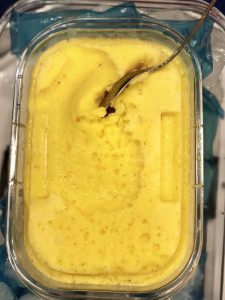 Ingredients:
– 1 pineapple cut in chunks
– 1 cup Vanilla Almond Milk
Instructions:
1. Put in food processor and blend.
2. Pour in container and freeze. Will come out in a sorbet consistency.
Pumpkin Pie
Vegan, Gluten Free Option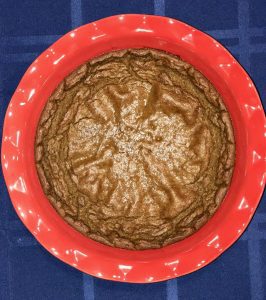 Ingredients:
– 1/2 Silken Tofu
– 1 1/2 Nondairy milk
– 2 tbsp cornstarch
– 1 tsp Vanilla extract
– 2 canned pure pumpkin
– 1/2 C Whole-Wheat pastry flour (or Gluten Free Flour)
– 2 tsp Baking powder
– 1/2 C brown sugar
– 1/4 tsp fine salt
– 3 tsp Pumpkin pie spice
Instructions:
1. Preheat oven 350F
2. Set aside a shallow 9-inch glass pie dish
3. In a blender or food processor, blend tofu, nondairy milk, cornstarch, and vanilla until smooth, stopping to scrape sides periodically.
4. Add remaining ingredients and blend for about a minute more until the mixture is uniform and well combined.
5. Pour the mixture into the pie dish and bake for 1 hour.
6. Allow the pie to cool on the counter, away from the hot oven, until it's at room temperature..
7. Cover with plastic wrap and refrigerate over-night or for at least 4 hours.
Clean Eating Pumpkin Hummus
You can also find this recipe here
Ingredients:
– 1 (15 oz) can cooked chickpeas, drained and rinsed
– 1/2 cup pumpkin puree (not pumpkin pie filling)
– 1/4 cup tahini
– 1 tbsp. garlic powder or 2 cloves roasted garlic
– 1 tsp ground cumin
– 1 medium lemon, juiced
– Salt to taste after making
– 1/4 tsp cayenne pepper & paprika (optional if you want it spicy)
– Water as needed for consistency
Instructions:
1. Place all ingredients in a food processor. Blend until smooth, adding water as needed to get a consistency you like.
Butternut Squash and Spinach Gratin with Lentils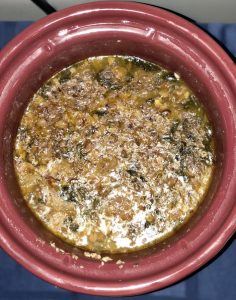 Ingredients:
– 1 tablespoon coconut oil
– 1 onion, peeled and chopped
– 2 garlic cloves, minced
– 1 small butternut squash, peeled, seeded, and cut into 1/2 inch cubes
– 4 cups packed spinach
– 1 teaspoon salt
– 1/2 teaspoon freshly ground black pepper
– 1 (13.5 ounce) can coconut milk
– 1 1/2 or 2 cups vegetable broth
– 1 (15 oz) can lentils, drained and rinsed
– 1/4 cup chopped fresh parsley
– 2 tablespoons chopped fresh sage
– 1/2 cup chopped toasted walnuts
Instructions:
1. Preheat the oven to 375 F.
2. In a large ovenproof skillet over high heat, melt the coconut oil. Add the onion and garlic. Sauté for 3 minutes.
3. Add the butternut squash, spinach, salt, and pepper. Sauté for 3 minutes more.
4. Stir in the coconut milk and just enough vegetable broth to cover the squash. Bring the liquid to a boil.
5. Add the lentils, parsley, and sage. Stir to combine.
6. Place the skillet in the preheated oven and bake the casserole for 15 to 20 minutes, or until the squash is tender.
7. Transfer the casserole to a serving dish and garnish with the walnuts.
Vegetarian Refried Beans with Cabbage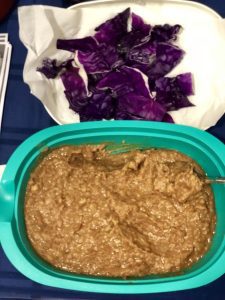 This is one of our favorite recipes here at WTI.
Ingredients:
– 1 small onion
– 15 oz. can pinto beans (undrained)
– 1 tsp. ground cumin
– ½ tsp. chili powder paprika
Instructions:
1) Line a skillet with a thin layer of water and saute onion over high heat until translucent and most of the water has cooked off.
2) Add cumin, chili powder and a few dashes of paprika, stirring to coat the onions. Add beans with their juices and stir to combine.
3) Reduce heat to low and mash beans well using a fork or potato masher. It will look very soupy, but don't be alarmed.
4) Crank the heat up to high and bring to a boil. Once boiling, reduce to medium and simmer 10 minutes. If the beans start popping and splashing, cover for a few minutes, then uncover.
5) Stir every minute or so, scraping along the bottom to lift the beans. After 10 minutes the liquid should have significantly reduced. It may still be a little soupy, that is alright, it will thicken as it cools. However, if its really soupy, cook longer.
6) Add salt and pepper to taste then serve.