April 4, 2018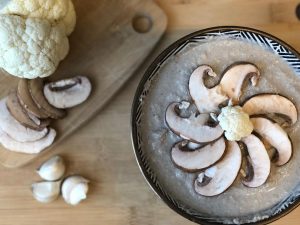 Mushroom Cream Sauce
Dairy-Free, Gluten-Free, Oil-Free
This is a great alternative to a standard creamy mushroom sauce that would use dairy products. We like to use plant-based alternatives instead dairy because of the inflammatory problems associated with dairy, check out our blog The 4 Reasons You Should Stop Eating All That Dairy here to learn more!
This sauce is great on top of veggie noodles, or as a dip for vegetables!
Ingredients:
– 1 small red onion (chopped)
– 1 container mushrooms
– 3 cloves garlic (chopped)
– 2 cups cauliflower
– 1/2 cup cashews
– 1 cup almond milk (try our homemade almond milk recipe here)
Directions:
– Heat a saucepan on medium with about 1/2 cup low sodium vegetable broth (enough to lightly cover the bottom of the pan).
– Add onions, mushroom, and garlic and cook for about 5-10 minutes, stirring frequently. Add more vegetable broth as needed to keep the bottom of the pan from sticking.
– Blend cauliflower, cashews, and almond milk in a food processor or blender.
– Once cooked, add onions, mushrooms, and garlic to the blender or food processor and blend to desired texture.
Helpful tip: If you boil zucchini and squash noodles for a few minutes before serving it gives them a softer texture!