St. Patricks Shamrock Smoothie
March 14, 2017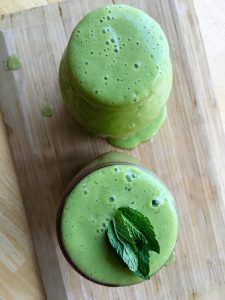 Shamrock Smoothie
We teamed up with the amazing Patricia Tamara Ode to bring you a delicious AND nutritious Shamrock Shake smoothie recipe!
Patricia is a Certified Plant-Based nutritionist, raw foodie, yogi, runner, AND more! We love teaming up with other members of the community who are promoting health and wellness 😀
Ingredients:
– 4 very ripe bananas
– 4 medjool dates
– 1/2 teaspoon spirulina (optional)
– Juice of half lemon
– 2 cups frozen mango
– 2 cups frozen baby spinach
– 1 cup pure coconut milk from can
– 3 1/2 cups coconut water
– 1/2 cup fresh mint
*use 1 cup mint for super minty taste
This recipe makes 64oz. for either two 32oz. smoothies or family size of four 16oz. smoothies 😀
---
Want more great information about the foundations of a healthy life? Download the first installment of our NEW 7-part eBook series The 7 Habits of Highly Healthful People for FREE right now, right HERE!
---