Vegan Cream of Mushroom Soup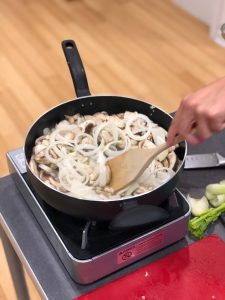 This weekend for Cooking Day Nicole made 2 different soups, Blended Veggie, and Cream of Mushroom. A lot of times when cooking, it's easier to make larger batches and freeze part of it for the rest of the week. Soups are great for that! Check out our recipe below: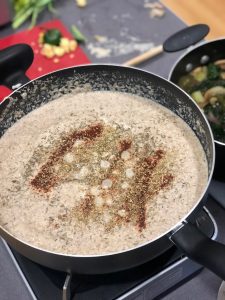 Ingredients:
2, 8-ounce containers sliced cremini Mushrooms
4 large cloves of garlic
1 Large white onion
5 cups Almond Milk (you can make your own)
Cashew cream sauce (makes about 2 cups)
½ tsp Paprika
½ tsp Rosemary
½ tsp Thyme
½ tsp Oregano
Directions:
Cut up mushrooms (we used mushrooms that were pre-cut) onion, and add to a large pot with a splash of water.
Heat on medium
Chop garlic and add to the mushrooms after sitting for 10 minutes
Blend all ingredients for the Cashew Cream Sauce and set aside
Add 2 cups Almond Milk to the pan after the mushrooms, onion, and garlic is cooked to your liking (about 20 minutes typically)
Add cashew cream sauce to the pot.
Add remaining almond milk.
Let cool, and blend! You can put it in any high-speed blender, or use an immersion blender.
Top off with Paprika, Thyme, Rosemary, and Oregano
Enjoy!