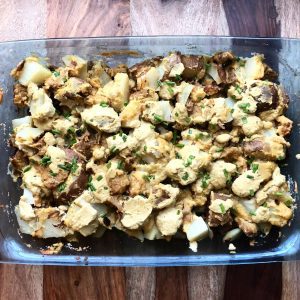 Cheesy Potatoes
This recipe was inspired by our Wellness Director Nicole's favorite holiday dish growing up… cheesy potatoes! She created this delicious dairy-free version of the classic dish, try it out for your next party or holiday!
Ingredients
– 5 white potatoes
– 1 large yellow onion, chopped
– 1 ½ cup vegetable broth (low-sodium)
– 1 package of organic tempeh
– 1 tbsp. liquid aminos
– 1 lemon (juiced)
– ½ cup cashews, soaked 6-8 hours or overnight
– 2 tablespoons nutritional yeast
Directions
– Pre-Heat oven to 350F.
– Heat a large pot of water, and boil 5 potatoes (set timer for 20 minutes)
– Heat a saucepan on medium low in ½ cup vegetable broth, and add onions. Cook for about 15 minutes.
– Cut the tempeh into lengthwise slices, add to a separate saucepan. Heat saucepan on medium low with ½ cup vegetable broth, and 1 tsp. liquid aminos, cook on medium low for about 5 minutes.
– Once potatoes are cooked through, chop into approx. 1 inch cubes & add to a casserole pan.
– For cheese sauce: Blend cashews, lemon juice, ½ cup vegetable broth, 1 tablespoon dijon mustard, and nutritional yeast in a food processor (add more broth if needed to thin, or more cashews to thicken).
– After onions have been cooking for about 15 minutes add on top of the potatoes, then add in tempeh. Pour the cheese sauce on top.
– Bake on 350F for 15 minutes. Check potatoes with a fork to make sure they are cooked through.
*You could also add sauteed kale to this.
– Enjoy!