March 21, 2017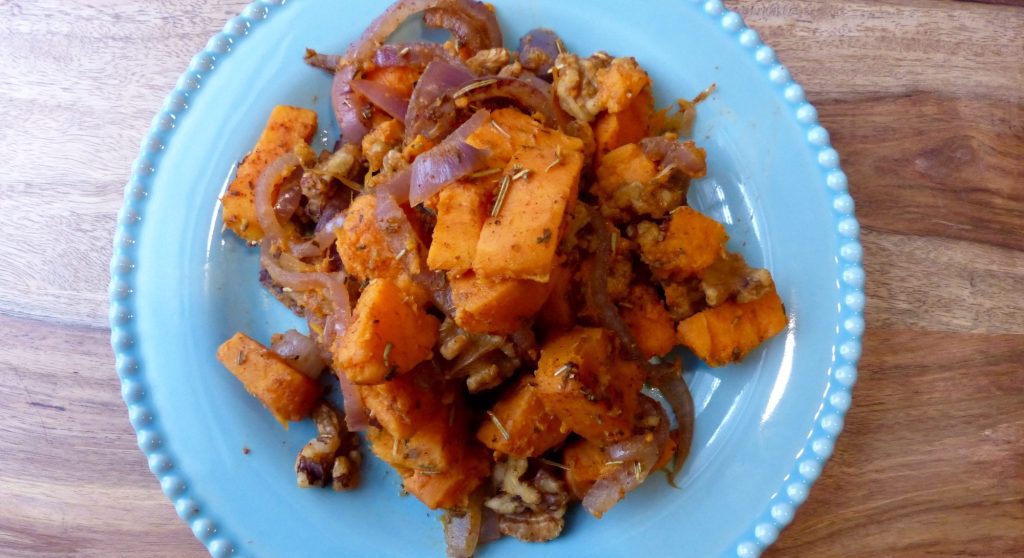 This delicious oil free, plant based recipe is a perfect start to your day!
Ingredients
– 2 sweet potatoes
– 1/2 cup low sodium vegetable broth (more as needed)
– 1 large red onion
– 1 tsp rosemary
– 1 tsp paprika
– 1 tsp oregano
– 1 tsp thyme
– 2 handfuls of walnuts
– Optional red pepper flakes
Directions
– Dice two sweet potatoes and add to a large saucepan.
– Add about 1/2 cup vegetable broth to a large saucepan (you want at least 1/4 of the sweet potatoes to be covered in broth). The only difference when you're cooking with vegetable broth instead of oil is that you need to move it around a little more.
– Chop one large red onion and add to saucepan.
– Add rosemary, paprika, oregano, and thyme.
– Cover and cook until sweet potatoes are soft, about 10-15 minutes, stirring often.
– Add two handfuls of walnuts, stir.
– Optional: add red pepper flakes for some spice!
– Enjoy!
To switch it up and add a more caramelized flavor, cook the onions with some vegetable broth in the pan for about 10 min (low/medium heat) first, then add the sweet potatoes and proceed!
This is a recipe you can add any vegetable to and it will still be delicious. Try adding some steamed greens, root vegetables, mushrooms, whatever you like!
Also, change it up on how you dice your potato offering different textures!
Meet The Chef:
Nicole Martin is our Wellness Director here and makes sure all of our Recipes are as simple AND nutritious as possible!