October 18, 2017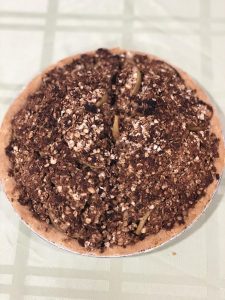 Quinoa and Vegetables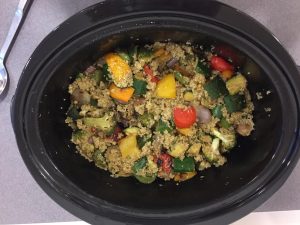 This recipe here is as simple as it looks! Just add some quinoa in your slow cooker, some vegetable broth and whatever vegetables you desire. This recipe here has zucchini, squash, peppers, mushroom and onions! This is great if you are running short on time or if you are looking for something easy for dinner!
Broccoli Slaw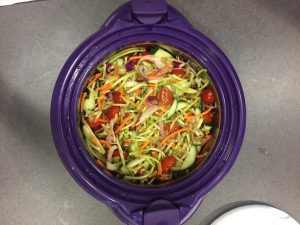 1 Pack Broccoli Slaw mix
1/2 Red onion
1/2 cup cherry tomatoes
1/4 Sunflower seeds
Dressing
1T Olive Oil
1 tsp Dijon mustart
1/2 tsp lemon
1/2 tsp salt
1/2 tsp pepper
Combine brocoli slaw mix, red onion, cherry tomatoes, and sunflower seeds.
Mix separately olive oil, dijon mustard, lemon, salt and pepper and poor over broccoli slaw mix. Adjust salt and pepper to taste.
Mexican Zucchini Burrito Boats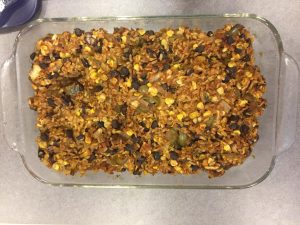 4 Large Zucchini
1 Can black beans, drained and rinsed
1 cup cooked brown rice
1 cup salsa (use your preferred level of spiciness)
1 red bell pepper, cored and diced
1/2 red onion, diced
1/2 cup corn kernels
1 jalepeno (or poblano pepper) cored and diced
1 tablespoon+1 teaspoon olive oil
2 teaspoon chili powder
1/2 cup fresh cilantro, finely chopped
Salt to taste
Garlic
Option-chop up and make in a casserole. Only use 1 zucchini.
1. Start by greasing a 9×13 casserole dish then set aside. Slice each zucchini in half lengthwise. Using a melon baller or metal teaspoon, hollow out the center of each zucchini. Lightly brush the tops with one teaspoon of olive oil then place them skin side down in casserole dish.
2. Next warm the tablespoon of olive oil in a large skillet over medium heat. Add the onion and the peppers and cook for 2-3 minutes. Then add the rice, corn, and beans along with the salsa, chili powder and cumin. Stir everything together and continue to cook for about 5 minutes then remove the skillet from the heat and set aside.
3. Preheat the oven to 400 F and then stir in 1/4 cup of the cilantro and salt to taste to the filling. Spoon the filling inside of each zucchini until they are all full. Bake in the oven for 25 minutes then remove the foil and set the oven to broil. Cook them for 5 more minutes.
4. Allow them to cool for 5-10 minutes then top with fresh cilantro and serve. Store leftovers in an airtight container for up to 3 days.
Mixed Fruit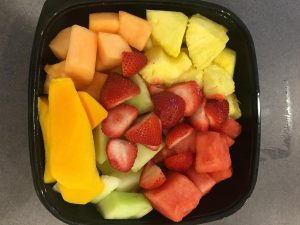 Running short on time? Try these pre-made fruit bowls you can purchase at any of your local grocery store.
Banana "Nice Cream"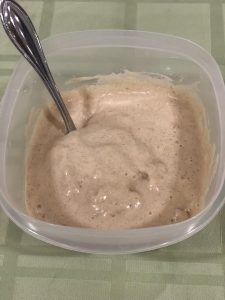 Sweet tooth and Craving Ice Cream?
Try this alternative to your traditional ice cream, with just a couple of simple ingredients.
-5 to 6 bananas
-2 to 3 spoonfuls Peanut Butter or Almond Butter
-Minimal Almond Milk
-2 to 3 tablespoons cinnamon
Mix all ingredients into blender and blend well. Add almond milk as needed, be sure to not add too much or it will become soup rather than ice cream!
Apple Pie Crumble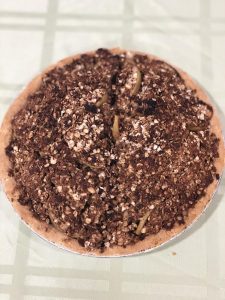 Filling:
5 apples (your choice)
2T Lemon Juice
2T Cinnamon
1/3C Coconut Sugar or your choice
1C Organic Oats
2T Almond Flour
1/4t All Spice
1/4t cloves
1/4t nutmeg
Crust:
Gluten Free Ready made (you can buy at Krogers/Whole Foods) or make your own.
Instructions:
Cut up apples and place in 4 cups of cold water with lemon juice. Drain, then mix all of above in same bowl with apples. Mix well, place in pie crust.
Topping: mix together oats, sugar, add all the same spices as above. Mix, add 2T of organic apple sauce, mix till it looks crumbly. Sprinkle on top of pie and bake at 400 for 50 minutes. Cool, and serve.
Pumpkin Pie Cookies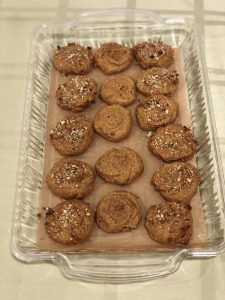 Ingredients
1 cup almond butter (creamy)
1/2 cup pumpkin puree
1/4 cup pure maple syrup (or sweetener of choice)
2 tsp pumpkin pie spice
1 tsp vanilla extract
1/4 tsp sea salt
Directions
1) Preheat your oven to 350F, and line a baking sheet with parchment paper.
2) Combine all of the ingredients in a medium bowl, and mix until a thick batter is formed.
3) Note: because this batter egg-free, feel free to taste-test it at this point, and adjust the flavors to your preference.
4) Using a tablespoon or cookie scoop, drop the batter onto the line baking sheet, and gently press each mound with a wet fork (to prevent sticking) to flatten.
5) Bake at 350F for 12-15 minutes, until the edges are golden.
6) Allow to cool completely before using a spatula to remove from the baking sheet. Serve immediately, or for a firmer cookie, chill before serving.