Stir Fry and "CHEESY" Vegan Fajita Food Prep
January 19, 2017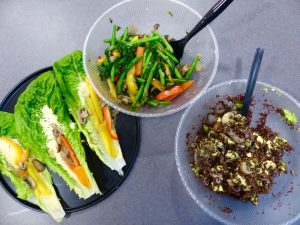 Stir Fry and Vegan Cheesy Fajitas (FOOD PREP!)
We find that when people start eating healthy and eating more vegetables, they also start spending a lot more time in the kitchen! This is why when we have cooking demonstrations we teach our members how to make multiple meals out of the same ingredients and all at the same time.
In this cooking demonstration we show you how to make three different recipes using the same basic ingredients, in less than an hour!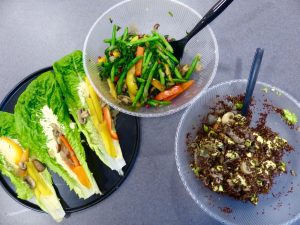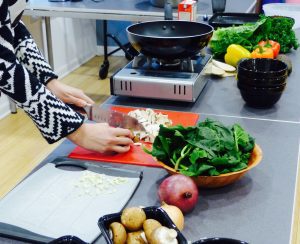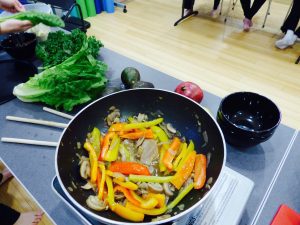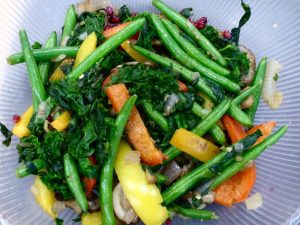 Mushroom and Quinoa Stir Fry (step 1)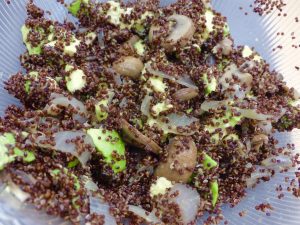 Ingredients
– 1 cup red quinoa (soaked over night)
– 2 garlic cloves (chopped or minced)
– 1 container (or about 8) cremini mushrooms (sliced)
– 2 small onions (chopped)
– ½ avocado (chopped)
Directions
– Chop 2 big cloves of garlic. *Do this first and let the garlic sit for 10 minutes. Allowing the garlic to sit after chopping prevents allicin from being destroyed during cooking. Allicin is anti-inflammatory and anti-cancer!
– Cook 1 cup red quinoa in 2 cups of water (or vegetable broth for more flavor). Allow the mixture to come to a boil, then lower to a simmer. Cover and cook for 15 minutes, make sure water doesn't completely evaporate. Stir every few minutes. When quinoa is cooked you will see a "tail" where the lining of the quinoa curls up.
– Place garlic and onion in a stir fry pan, add about ½ cup vegetable broth (more if needed) and heat on low-medium.
– After about 5 minutes (or until onions are translucent) add mushrooms, stirring occasionally and cook for another 5-10 minutes
– Once mushrooms are cooked pour 3/4 the mixture into a bowl, add ½ cup quinoa and avocado, enjoy! ***KEEP 1/4 of this mixture to add to your fajitas (next recipe) 😀
"Cheesy Vegan Fajitas" (step 2)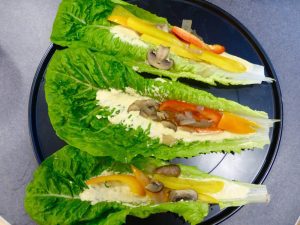 Ingredients
For the Fajitas:
– 2-3 romaine leaves
– Leftover mushroom stir fry
– 2 peppers (yellow, red, or orange, sliced)
– 1/2 avocado chopped (optional)
For Cheese Sauce:
– 3/4 cup cashews (soaked 8 hours or overnight)
– 1/2 cup vegetable broth
– 2 garlic cloves
– 1/2 cup nutritional yeast
– 1 tsp. dijon mustard (Annie's Organic is a great brand)
– 1/2 lemon
Directions:
– In a food processor combine cashews, vegetable broth, garlic, nutritional yeast, mustard, and juice of 1/2 lemon. Blend until thin.
– Add peppers to the mixture of mushrooms, garlic, and onions. Sauté for 1-2 minutes.
– Place cheese sauce in the lettuce cups, top with the mixture of peppers, mushrooms, garlic and onions.
– Top with 1/2 avocado if desired!
Green Goodness Stir Fry (step 3)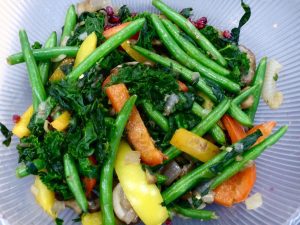 Ingredients:
– 1 bush of kale
– Few handfuls of spinach
– Few handfuls of green beans
– 1 pomegranate
– 1/2 lemon
Directions:
– Place kale in a bowl and massage for 2-4 minutes. This is going to breakdown the cell walls of the kale to bring out the flavor and make it easier to digest!
– Chop kale
– Add about 1/2 cup of vegetable broth into your sauté pan and heat. There will still be some garlic and onion in your sauté pan, but add more for flavoring as needed.
– Add green beans and kale
– Cook for 2-3 minutes until kale and green beans begin to soften, then add spinach. Stir frequently.
– Cut 1 pomegranate in half, and scoop out seeds. Sprinkle on top of stir fry, and enjoy on any other dish!