February 28, 2017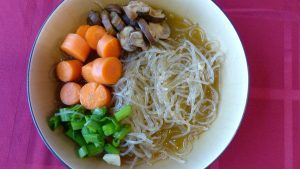 Kelp Noodle Ramen Soup
(gluten free, plant based, oil free)
Almost everyone has had Ramen Noodles at some point in their life, maybe even a LOT of Ramen Noodles! Our variation of Ramen Noodles is easy to make AND really delicious! It features Kelp Noodles that are grain free, and have lots of other health benefits.
Did you know that sea vegetables like kelp are a great source of Iodine? Iodine is a vital nutrient to the body that is particularly important for regulating thyroid function. AND because of things like soil depletion and variability, and lack of certain foods like sea vegetables in our diet, many people are Iodine deficient. Did you know Iodine also helps prevent cancer, maintain mental health, and more? This recipe is a quick and easy way to get a healthy dose of sea vegetables in a delicious soup!
Ingredients
– 1 yellow onion, chopped
– 1 tbsp. miso paste (optional)
– 2 cups kelp noodles (soaked for a few minutes before cooking, you can find kelp noodles at whole foods with the other sea vegetables)
– 2 cloves garlic, chopped
– 2 cups vegetable broth (low sodium)
– 1 tsp. liquid aminos
– 3 green onions (chopped)
– 1 cup water
– 1/2 to 1 cup mushrooms
Directions:
Heat a thin layer of vegetable broth over a large pot on medium-low heat, add in chopped garlic and onion, sauté for 3-5 minutes or until onions are translucent (adding more vegetable broth as needed to keep the bottom of the pan covered).
Add in mushrooms, and sauté for 2-3 more minutes.
Add broth, water, green onions, and liquid aminos, cooking for 20 minutes to an hour. The longer you cook it the more the flavors will be absorbed. You can add in the kelp noodles at any time, cooking them for about 10-20 minutes. Kelp noodles may take some time to soften, so cook them to desired texture.
If you are adding miso, add the miso a few minutes before you are done cooking the soup. Once you add in the miso bring soup to a boil, then lower to a simmer for a few more minutes.
Top with or cook in carrots, additional mushrooms, hot sauce, kale, spinach, or any other desired flavor or topping!