September 26, 2017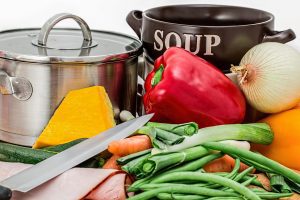 Vegetable Broth & Vegetable Stew
At Nicole's last cooking day she talked about a couple different ways to make vegetable broth. Vegetable broth is easy to make, it is a great use of your leftover veggies, and it tastes delicious!
There are two different ways to make vegetable broth:
1. Use the SCRAPS that you would normally throw away and make an awesome broth.
2. Use vegetables (chopped in chunks) to make your broth, and as a bonus make a stew with the vegetables you used to make the broth instead of tossing them.
You spend good money for your veggies… so don't let anything go to waste!
---
Real quick: Is your diet SAD? Click here to watch what we mean…
---
#1 Vegetable Broth Recipe:
– All the scraps! The tops of your carrots, peals from your carrots and sweet potatoes, skins of your onions, stems of the kale, leaves of the cauliflower, outer scraps from ginger and garlic… and whatever else you have!
– Add them in a big pot of water along with spices of your choice (I love coriander, cumin, cayenne, and a pinch of salt).
– Bring to a boil and then reduce heat and simmer (uncovered) for about an hour.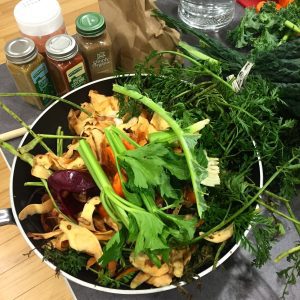 #2 Veggies for broth… then used for Vegetable Stew:
Use all the ingredients below. Eventually, they will be a part of your vegetable stew!
Ingredients
3 cloves garlic, chopped
1 onion, chopped
4 sticks celery, chopped
3 carrots, chopped
1 small head cauliflower broken up
2 cups mushrooms (or one container… any mushroom of your choice)
1/2 inch raw ginger
Coriander, cayenne, cumin (1 tsp each… I'm partial to coriander so I do an extra tsp)
16 cups which = 2 pitchers of water
The leaves of 4 stalks of kale, chopped.. Pro tip: Add after the broth has been cooking for about 45 minutes.
Directions:
Part One
– Cut 3 cloves garlic and let sit for 10 mins, allowing the garlic to sit before cooking it preserves the Allicin which is anti-inflammatory
– Sauté onion in a thin layer of water for 5-10 minutes, or until onions are translucent. Add garlic, ginger, coriander, cayenne, cumin, and a little more water. Cover and simmer for a few more minutes.
– Now add all the water and veggies, excluding the kale and leaves
– Bring to a boil, then reduce to a simmer (uncovered) for 45 minutes
– Now add kale and cook for another 15-30 minutes. When it smells awesome, it's ready!
– Drain the broth into a container to keep, now it's time for the Veggie Stew!
Part Two
– Take all the veggies left in the pot and put them in a crockpot. Add some more pieces if you'd like (I used the same amount that I used in the beginning). Add in some of your veggie broth and let it warm in the crockpot for 10-15 minutes. Then eat up!
– For another variation add some quinoa or lentils to the stew!
---
Why should you switch to a plant-based diet? Good question. Download our free Nutrition eBook to find out why… and revolutionize your health. Grab it for free right here, right now.