Creamy Vegetable Stir Fry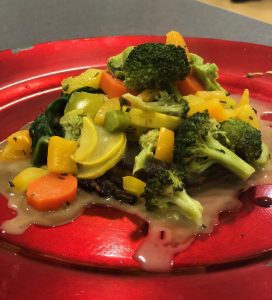 Vegan, Gluten-Free, Dairy Free
With the holidays coming up and the snow starts falling on the ground, it's a perfect time for warm vegetables. This recipe is so incredibly colorful and easy to make.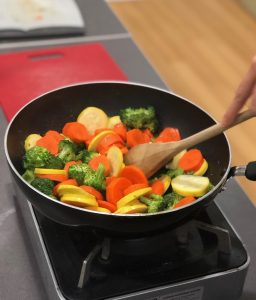 Ingredients
3 heads of Broccoli
2 cans coconut milk
1 squash
2 carrots
2 peppers
3 portabella mushrooms
2 tablespoons balsamic
2 tablespoons Rosemary
2 tablespoons Thyme
2 tablespoons Oregano
2 tablespoons Paprika
3 cups spinach
Directions
1. Cut up broccoli and add to a sauté pan with ½ can of coconut milk
2. Cut up squash and add to pan
3. Cut up carrot and add to the pan. We are adding the vegetables that need take the most time to cook. Add the rest of the coconut milk in with the carrots
4. Cut up peppers and add to the pan
5. Lastly, add the spinach and spices, then let cook for about 10- 15 minutes or until cooked all the way.
6. In a separate pan sauté portabella on medium-low heat in some balsamic dressing. It's very easy to cook with balsamic dressing, you just may have to stir the mushrooms a little bit more.
7. Top mushrooms with stir-fry.
8. Enjoy 🙂
* You can add more or less coconut milk, the more "soup-like" you want to make it add more. If you want it to be more of a "stir fry" add less.
Optional: Nutritional yeast as a topping 🙂