Creamy Chickpea & Kale Stir Fry
August 21, 2017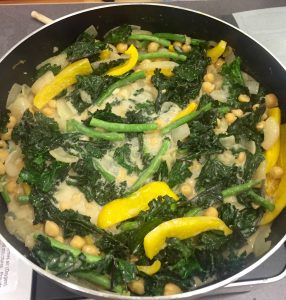 Creamy Chickpea & Kale Stir Fry
This is a recipe from a cooking class with Nicole, it is great to use for weekly food prep. This stir fry is protein packed with beans & veggies, and it is oil-free. Feel free to add any other veggies that are in season!
Ingredients:
– 4 cloves garlic
– 1 onion
– 1 can coconut milk
– 1 tsp. thyme, oregano, paprika & rosemary
– 2 bell peppers, chopped
– 1 cup green beans, 1 can/cup organic chickpeas
– 1 head kale
– 1/2 to 1 cup vegetable broth (low-sodium)
– 1 cup mushrooms
---
[Want to bust belly fat once and for all? Watch this right now, right here!]
---
Directions:
– Chop 4 cloves garlic. *Do this first and let the garlic sit for 10 minutes. Allowing the garlic to sit after chopping prevents allicin from being destroyed during cooking. Allicin is anti-inflammatory and anti-cancer!
– Add 1/2 cup vegetable broth to a sauté pan, and heat. Add chopped onions, and cook for 5-10 minutes on medium (add vegetable broth as needed), stirring frequently.
– Add garlic & mushrooms, cook for another 10 minutes, stirring frequently.
– Add coconut milk, bell peppers, green beans, chickpeas, kale, and spices. Cook for 10-20 minutes, stirring every few minutes, until you reach the desired consistency and texture.
– If you like spicy, you can add red pepper flakes!