Coconut Vegetable Casserole
December 18, 2017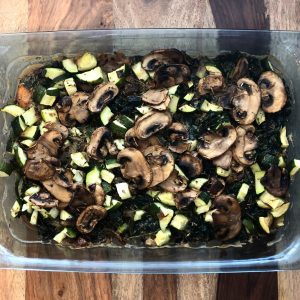 Coconut Vegetable Casserole
This creamy casserole is a great way to get in LOTS of veggies at dinner! It's both versatile and a great way to cook up any leftover veggies you might have.
Ingredients
– 3 cloves garlic (chopped) as always when using garlic, allow it to sit for 10-15 minutes after chopping to preserve allicin, which is an anti-inflammatory component of garlic.
– 1 yellow onion, chopped
– 1 cup vegetable broth (low sodium)
– 1 sweet potato, sliced into circular slices.
– 2 zucchini, chopped
– 1 can organic coconut milk
– 1 cup mushrooms
– ¼ tsp. cumin, coriander, thyme, oregano, basil
– Pinch of Himalayan sea salt
– 1 bunch kale, de-stemmed
Directions
– Pre-Heat oven to 350F
– Chop garlic first, so that it can sit for 10 minutes.
– Heat a saucepan with vegetable broth, add onions. Stir frequently, adding more vegetable broth as needed. (Add garlic after it has been sitting for 10 minutes.) Note: The only difference when cooking with vegetable broth compared to oil is that you will need to stir it a little more often, and add more as needed.
– Line the bottom of a casserole dish with sliced sweet potatoes.
– Heat a second saucepan with ½ cup vegetable broth, and add mushrooms, stirring frequently.
– Sauté zucchini with vegetable broth and onion mixture.
– Blend coconut milk, cumin, coriander, thyme, oregano, and basil, and a pinch of Himalayan sea salt in a food processor.
– Add half of the kale to the saucepan with onions, garlic, zucchini, and vegetable broth. As the kale wilts down, you can add more.
– Once the kale has cooked down for a few minutes, pour kale mixture over the sweet potatoes.
– Top off with the mushroom blend, then pour the creamy coconut sauce evenly over the entire mixture.
– Bake at 350F for 30-35 minutes, or until the coconut milk is boiling and has taken on a slightly toasty color.
Note: You can add any other veggies you want to this casserole!