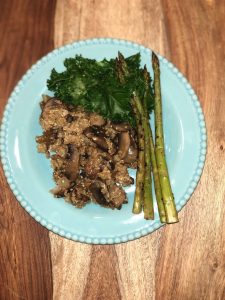 Ingredients:
1 12 ounce bag Organic Sprouted Quinoa (Tru Roots is our favorite brand)
2 tbsp veggie broth (add more as needed)
1 sweet onion
2 packets mushrooms
1/2 lemon
4 tbsp Hemp hearts
Directions:
Start by adding quinoa to boiling water and reduce to a simmer for 15-20 minutes (cook according to package)
While the quinoa is cooking, chop onion and add mushrooms to a pan.
Saute mushrooms on medium heat with a splash of vegetable broth. (cover and occasionally stir) After 5 minutes add onion to the mushrooms.
After about 10 minutes the onions and mushrooms should be done.
Once quinoa is done combine with mushrooms and onions.
Add hemp heart seasoning to quinoa or your favorite spices.  
Now you have a big batch of flavorful quinoa! Throughout the week you can heat it up in a pan an add to it. Today we sautéed asparagus and steamed kale to add to our meal.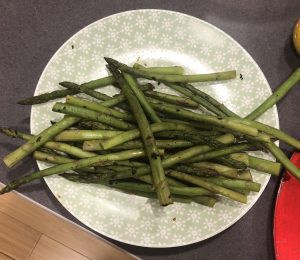 For those of you who are working and like hot food for lunch, purchase a steamer and use it to quickly steam a sweet potato, kale, spinach, or any other veggie! This is the steamer we use at our office and it is a lifesaver during times when we didn't bring a meal with us to work.
We proudly believe our steamer is used more than any other office steamers 🙂